Hotels to remember: Arsenale
Arsenale: introduction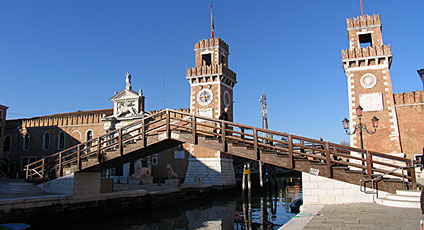 The arsenal was Venice's largest industrial complex, in existence since the 1320's, with a work force of over three thousand men, the so-called "Arsenalotti", and a production capacity which, in the 1500s, churned out six galleons a month.
Innovative management skills and advanced rational organization resulted in the development of techniques of construction such as the frame-first system which replaced the Roman hull-first practice - a new system which was much faster and required less wood. For the first time, standardised parts were produced on a production line basis.
The Arsenal of Venice was one of the most important components of the ancient maritime Republic: the vessels which left its ship yards were to become famous throughout the world.
The Arsenal covers a vast area of the insular city: approximately 32 hectares, and roughly 670 hectares of Venice, including the islands of Giudecca, Tronchetto, San Giorgio and the internal canals. The complex represented, for centuries, the motor of the Venetian economy, so much so as to be officially declared in 1509 the "heart of the state of Veneto".
Arsenale: places to see in the area