Hotels to remember: Rialto bridge
Rialto bridge: introduction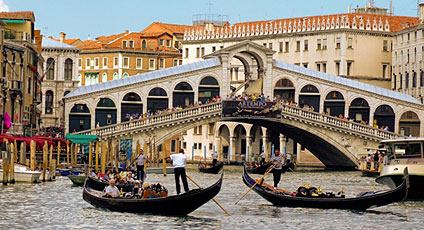 The Rialto, Accademia and Scalzi bridges, the three bridges which unite the city otherwise divided in two by the Canal Grande, have become symbols of Venice.
The Rialto Bridge is the most famous, built in 1588 to substitute a previous wooden bridge, with a high central arch to allow for the passage of vessels with masts. Up until 1854 the Rialto bridge was the only bridge to cross the Canal Grande.
Divided in three ramps with two lines of shops, the bridge was constructed on some 12,000 wooden pilings.
The Accademia Bridge was built during the 1800's during a period of great expansion using innovative materials including iron. It was actually intended to be a temporary structure.
The third bridge, the Ponte degli Scalzi was the result of the reconstruction of an old Hapsburg bridge, designed by Eugenio Miozzi.
Rialto bridge: places to see in the area