Hotels to remember: Piazza San Marco
Piazza San Marco: introduction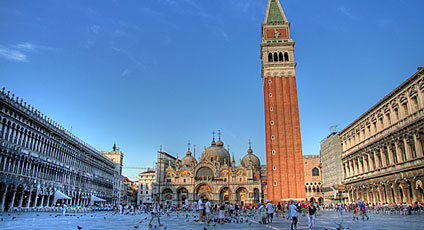 Its fabulously ornate decoration and striking geometric patterns of Istrian stone have earned Piazza San Marco, St Mark's Square to the Anglophones, its status as one of the world's most beautiful squares, the only square in Venice not to be called "Campo".
First laid in the 11th century, and repaved in the 16th century, Piazza San Marco has the air of a vast open air renaissance drawing room bordered by the magnificent buildings of the Basilica of San Marco, the Clock tower, the Procuratie Vecchie--originally occupied by the Procurators of St. Mark, the highest officials of the Venetian Republic other than the Doge, the Ala Nuovissima built by Scamozzi for Napoleon in the early 1800s to house a state ballroom, and the Bell Tower of San Marco, an imposing tower which once served as 'lighthouse for the sailors, and was to provide a prototype for all the bell towers of the lagoon.
The Bell Tower of San Marco, together with that of Sansovino, marks the opening of Piazza San Marco. Then there is Palazzo Ducale, which dominates the Piazza with its splendid Venetian Gothic architecture, and the Libreria Vecchia.
Piazza San Marco: places to see in the area