Hotels to remember: Basilica di San Marco
Basilica di San Marco: introduction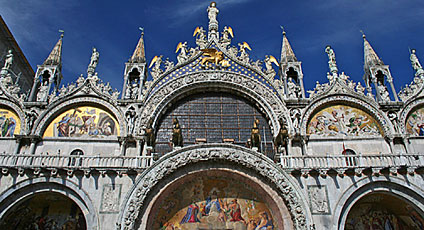 Consecrated in 1094, the Basilica of San Marco functions as the Cathedral of Venice, seat of the patriarchate since 1807. The Basilica of San Marco was originally built so as to house the body of San Marco which was brought to Venice in 828. The remains of the Saint were initially kept in a chapel in the Doge's Palace, before being transferred to the church built to provide the saints perpetual resting place.
This church was subsequently destroyed by fire and rebuilt, gradually evolving over the centuries in to the Basilica which can be admired today. The Basilica of San Marco is adorned with spectacular mosaics covering the walls and vaults of the naves, and numerous examples of Byzantine and Greek marble work. Screening the alter containing the remains of San Marco is the "Pala d'Oro", one of the finest and most valuable altar screens in the world, with more than 3000 precious stones and enamel icons inlaid with gold, supported by four columns with capitals dating back to the XII century.
The façade of the Basilica of San Marco features the copies of the legendary four horses, whilst a fastigium of spires and golden domes crown the whole Basilica. Walking through the galleries one can better observe the ornate mosaics under the arches, domes and naves, which lead through to an external loggia.
Basilica di San Marco: places to see in the area