Hotels to remember: Jewish ghetto
Jewish ghetto: introduction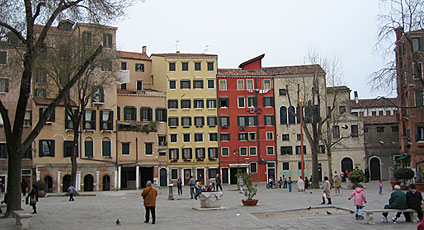 Venice was home to the first Jewish ghetto of Europe, instituted under the laws emanated in 1516 by the government of the Republic of the Serenissima.
The Jewish Ghetto was an area designated for the habitations of the Jewish population, in a cordoned area accessible via a gateway controlled by guards, through which passage was denied any time after sunset until dawn. At the time of its construction, the Jews were authorised to practice only certain professions.
The population's skills and proficiency in Arabic which enabled them to study authoritative medical documents meant that they were permitted to work as Physicians. They were also authorized to lend money (activity which was otherwise forbidden by the Catholic religion), and to trade goods. Many members of the Jewish community were labelled "strazzarioli" or sellers of cloth.
There are a total of five synagogues in the Jewish Ghetto: the Schola Tedesca, the Schola Levantina, the Schola Canton, the Schola Italiana and the Schola Spagnola .
The Schola Tedesca, Schola Canton and Schola Italiana are approached directly from the "Campo di Ghetto", whilst those of the Schola Levantina and Schola Spagnola can be accessed via the "Campiello delle Scuole" in the old Ghetto.
Jewish ghetto: places to see in the area