Hotels to remember: Udine
Udine: introduction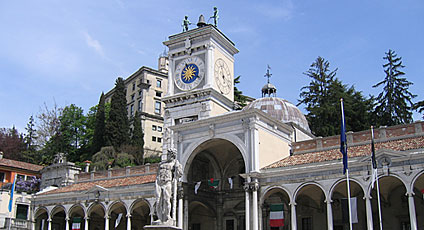 Udine is situated in a territory inhabited long before records began. Closeby is the Tarvisio Nature Reserve, which is of importance because of its extent and also because of the wealth of animals and plants which can be found within its boundaries.
Udine, is a town dominated by its Castle. There are a number of sites of certain tourist appeal such as: the Udine Civic Museum, the Galleries of History and Art, the Church of St Maria, the town's oldest church, the Loggia del Lionello, the oldest monument, Palazzo Antonimi, the Unification Museum, the Castle Archaeological Museum and the Clock Tower.
Udine hosts a number of important events including "Friuli DOC", with tastings of local produce, and Udine Carneval.
Local cuisine features rice based dishes such as "ris e lujanis", "cialons", "brovada" and "bisna". Wines from the area include many a prestigious Merlot, Cabernet, Pinot Grigot, Tramier, Tocai and Chardonnay.
More suggestions and useful addresses
Udine: places to see in the area