Grape craft
Count d'Attimis Maniago's "tongue-cutting" wine.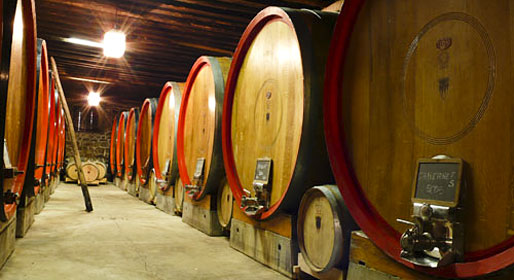 The green slopes of Friuli's Colli Orientali, just 12 kilometers South of Udine, have, for some 500 years, been the home of a noble family whose love of wine runs deep in their blue-blooded veins.
Count d'Attimus Maniago inherited the company, which is still in the family's possession today, in 1585.
Count Alberto and the art of cloning
The historic Conte d'Attimis-Maniago Sottomonte estate, now run by Count Alberto, is one of the oldest wine producing estates in the whole of Friuli Venezia Giulia. The domain extends over some 110 hectares of land, almost all of which are covered in grapevines.
Seventy percent of the vineyards have been planted with autochthonous biotypes, which are subjected to annual selected cloning to identify those best suited to the area's particular microclimate.
Count Alberto's recent decision to reduce the number of vines planted has resulted in a decrease in yield per hectare and, at the same time, an increase in quality.
Friuli's tongue-cutting terroir
The terroir of the Colli Orientali has always favored the growing of grapevines and this has enabled the Counts d'Attimis Maniago to successfully grow numerous autochthonous varieties, from which to produce Malvasia, Pignolo, Ribolla Gialla, Refoseo dal Peduncolo Rosso, Schioppettino, and Verduzzo Friulano wines.
In addition, the company cultivates one of Friuli's oldest indigenous grapevines: the Tazzelenghe.
The name Tazzelenghe, or "cuts the tongue" in local dialect, alludes to the sharpness of the wine when young (a characteristic which, as the wine ages in the oak barrels, is lost, resulting in a softer, full-bodied wine)

The Count's vocation for producing indigenous wines has not stopped him from exploiting the exceptional characteristics of the terroir to cultivate imported vines such as the Pinto Grigio, Chardonnay and Merlot which, whilst not originating from this region, have nevertheless been cultivated here for centuries.
Tours and tastings
A "family masterpiece" of which Count Alberto is particularly proud, the "Picolit", is one of Fruili's most noble and unique wines.
Picolit's singularity derives from the partial pollination of the flowers, which produces bunches of grapes with only a very few berries, the natural raisining of which makes the wine particularly sweet. The result is a velvety, gold dessert wine with a bouquet of candied fruit, honey and meadow flowers

Visitors to the estate are often greeted by Count d'Attimis in person, who accompanies them on a tour through the grapevines, to the ancient, brick vaulted cellar, where he illustrates the characteristics of a company which, far from being made complacent by its long established fame, continues to embrace future growth and innovation.

Cantina Conte d'Attimis-Maniago
Via Sottomonte, 21
Buttrio (Udine)
Tel: +39 0432.674027
www.contedattimismaniago.it
Opening hours (visits by reservation only): Monday - Friday 8.00 to 12.00 and 14.00 to 18.00. Saturday from 8.00 to 12.00.