Hotels to remember: Venzone
Venzone: introduction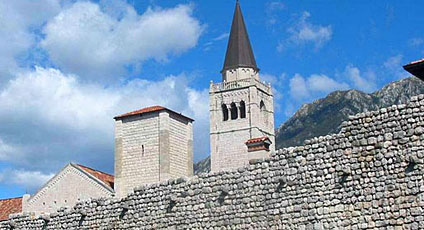 The town is thought to date back to around 900 B.C. The name "Venzone" is derived from the Venzonassa stream. A typically Medieval city, Venzone was declared a National Monument by the Education Ministry in 1965. The earthquake of 1976 almost completely destroyed the town which has been painstakingly rebuilt and restored over the subsequent decades.
The most important monument of Venzone has to be the Cathedral. Then there is the Chapel of St Michele, Palazzo Comunale, considered a masterpiece of Gothic architecture, the Palazzo housing the council offices, the Piazzetta with public fountain, Palazzo Radiussi, the Church of St Giacomo and Anna, the small Church of St Lucia and the Church of Bartolomeo in which a Romanesque Crucifix, a rare piece from the XIII century Friulian School, can be seen.
The imposing city wall of roughly a kilometre in length, with the St Genesio tower, the only one of the three original towers to remain intact, is another tourist attraction.
Venzone: places to see in the area