Hotels to remember: Aquileia
Aquileia: introduction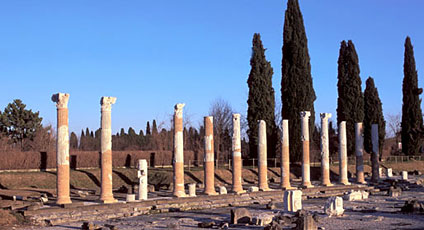 Built as a military settlement by the Romans in 181 B.C, Aquileia became an important commercial center because of its road network and large river docks. Aquileia has been known for the production of glass, amber and gem stones since the times of the Roman Empire.
The symbol of Aquileia has to be the Abbey, the first Christian monument to be erected in Aquileia built by the Bishop Teodoro in 313 AC. Museums to visit include the National Archaeological Museum, the Paleochristian Museum and the Civic Patriarchate Museum.
In connection with the importance of the town in Roman times, and sites visitors should not miss the opportunity to admire, are the Foro, the Sepolcreto, the Roman Houses, the Great Mausoleum, and the River Port, the ancient economic heart of the town.
Those with a little more time at their disposal can continue on to nearby Grado, known as the island of the sun, Cervignano and the Fortified town of Palmanova.
More suggestions and useful addresses
Aquileia: places to see in the area