Hotels to remember: Basilica of San Lorenzo
Basilica of San Lorenzo: introduction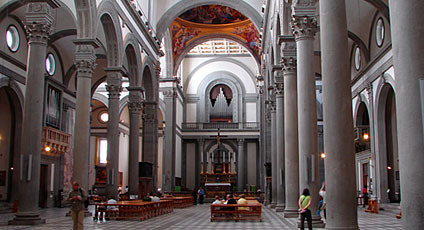 Realised in 1423, the Basilica of San Lorenzo was designed and built by Brunelleschi. The Master produced an innovative project, dramatically different from the classical style of churches, with their almost mystical lighting, creating a church where the light is allowed to penetrate and illuminate all of the building's architectural features.
Inside the Basilica of San Lorenzo one finds the works of Desierio da Settignano, Donatello, Rosso Fiorentino, and Bronzino. The Old Sacristy is the work of Brunelleschi, whilst the New Sacristy was realised by Michelangelo; the latter houses the tombs of the members Medici Dynasty, hence it is also called the "Medici Chapel". The Laurenziana Library, situated to the left of the Basilica di San Lorenzo was also the work of Michelangelo, commissioned by the Medici Family.
Close to the Basilica di San Lorenzo there is the Mercato Centrale, an excellent example of 19th century glass and iron architecture and well worth visiting.
Basilica of San Lorenzo: places to see in the area