Hotels to remember: Uffizi Gallery
Uffizi Gallery: introduction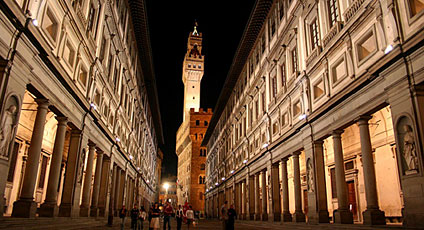 The name of the museum is most likely to derive from "Uffici" or "Offices", in that the Uffizi would once have been used as the administrative centre of the legendary Medici dynasty who, from the moment they started to use the building, decorated a number of the rooms with works of art from the family collection.
Today, the Uffizi Gallery is considered to be one of the most beautiful and important art museums in the world, with an extremely impressive collection of works by artists from the thirteenth to eighteen century. Among the works exhibited, one finds masterpieces by eminent Italian artists such as Giotto, Cimabue, Beato Angelico, Masaccio, Leonardo da Vinci, Michelangelo, Botticelli, Raffaello, Piero della Francesca and Caravaggio, and foreign artists such as Rubens, Durer, Rembrandt and Goya, in addition to paintings by numerous other artists.
Visitors should not miss the Corridorio Vasariano, the corridor built by Vasari in 1565, linking the Uffizi Gallery with Palazzo Pitti which houses a collection of portraits by artists of the past and present.
Uffizi Gallery: places to see in the area