Hotels to remember: Giotto's bell tower
Giotto's bell tower: introduction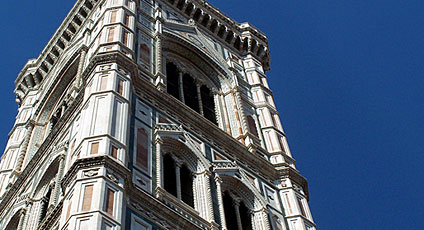 Initiated in 1334, the bell tower of Santa Maria del Fiore, better known as "Giotto's bell tower", is today considered to be one of the most beautiful in the whole of Italy; a result of the, albeit costly, genius of Giotto's vision.
The master was given the task of finishing work on the Cathedral, but rather than concluding the initial project, Giotto drew up plans for the bell tower. Faithful to his vocation as a painter, Giotto proceeded at the same time to construct the building and face it with white marble from Carrara, red marble from Sienna and green marble from Prato; the result was a magnificent monument, more ornamental than functional.
Giotto's bell tower was not, however, completed by Giotto who died in 1337, and the job of finishing the building was handed over to Andrea Pisano, creator of the Southern door of the Baptistery, and in 1348 to Francesco Talenti who, in 1359, completed the bell tower as we now know it. The resulting building is an extremely elegant, slender one, with a panoramic terrace at the top which replaces the typical cusp of Gothic bell towers.
Giotto's bell tower: places to see in the area