Hotels to remember: Ponte Vecchio
Ponte Vecchio: introduction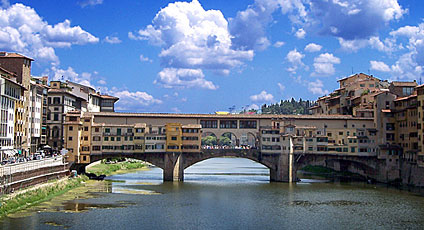 The Ponte Vecchio has truly ancient origins; the original bridge was built by the Etruscans who used it in order to cross the river Arno and transport their goods from Bologna to Fiesole. It was subsequently rebuilt on various occasions in 1117, 1345 and 1495 due to flooding.
The existing three arched bridge structure, a much wider bridge than the previous models and purposely built to accommodate various shops on either side, is thought to be the work of Taddeo Gaddi. In 1442 the shops were rented out by the council to the Arte dei Beccai who set up a meat market here, until 1593 that is, when Ferdinando I, crossing the bridge via a special corridor above the shops, quickly had the butchers evicted and their shops replaced by those of the city's goldsmiths, whose trade is still continued on the bridge to this very day.
The Ponte Vecchio is now the most visited jewellery market in the world. The buildings cantilevering out and supported by beams were added in 1495, so as to acquire valuable space, whilst a more substantial modification was made by Vasari who created a corridor linking Palazzo Vecchio with Palazzo Pitti.
Ponte Vecchio: places to see in the area