Velona's Jungle Firenze
(Guest Houses) Firenze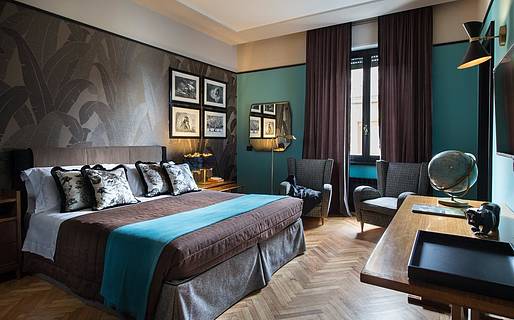 Impeccable interior design: Velona's Jungle Luxury Suites, a stunning guest house in the heart of Florence
Three reasons why you'll love it here

Designer interiors
Organic breakfast
Central location
Authentic Florentine hospitality, flawless style, eco-sustainability, and luxury services: together, these elements are what makes is guests fall in love with Velona's Jungle Luxury Suites, an exacting guest house in the heart of Florence.
Room rates start at 150 euros per night.

Flawless Style
Velona's Jungle Luxury Suites is a historic family apartment that has been completely renovated and is perfect for visitors to Florence looking for a unforgettably unique pied a terre in the city center. The rooms, recently featured in Architectural Digest magazine, have a tasteful jungle theme and are furnished with mid-century antiques collected by the host's grandfather in Italy and Europe in the 1950s. In addition, guests love the designer fabrics and other flourishes, artworks, and carefully curated small touches like organic bathrooms soaps and bespoke fragrance. Each detail is chosen with care by the host at Velona's Jungle to guarantee a delightful stay.
Beyond elegance and design: the rooms at Velona's Jungle in Florence offer every amenity you need for a comfortable stay, including air conditioning, Wi-Fi, TV, parquet floors, minbars and electric kettles with a selection of teas and coffees, and luxe bathrooms with walk-in rain showers and exclusive HUR organic bath and body products.

Florence Outside the Front Door
The strategic location is another jewel in the Velona's Jungle crown, as it's set in the perfect spot for exploring the historic center and Oltrarno neighborhoods in Florence. In less than 30 minutes on foot, you can visit the Duomo, Ponte Vecchio, Uffizi Gallery, and the Oltarno and Boboli Gardens. The most famous and breathtaking sights in Florence are all a short walk away!
Even the breakfast at Velona's Jungle is unforgettable, a medley of organic and locally sourced treats from fresh fruit, pastries, and yogurt. Begin your day with a delicious (and healthy) repast and set out to discover the highlights of Florence's Renaissance center

Velona's Jungle Firenze amenities
Rooms
Internet connection
Free Wi-fi
Air Conditioning
Minibar
Safety deposit box
Kettle
TV
Satellite TV
Hair dryer
Various