Hotels to remember: Spedale degli Innocenti
Spedale degli Innocenti: introduction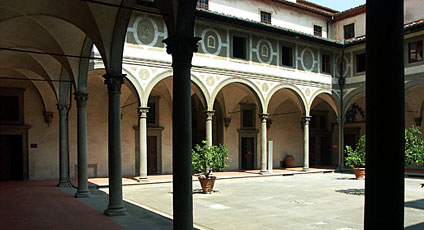 Situated in one of Florence's most beautiful architectural structures dating back to the first half of the fifteenth century, the "Spedale degli Innocenti" was built in order to provide a home and place in society for children that had been abandoned by their families.
The "Spedale degli Innocenti" was commissioned and financed by the Arte della Lana and designed by Filippo Brunelleschi'', resulting in a perfect example of his special brand of rational and harmonious architecture'''.
The Gallery of the "Spedale degli Innocenti" is situated above the courtyard, within the loggia, and in the first of what were originally children's rooms above the portico. Today the Gallery has become a veritable museum housing works from a collection comprised of art donated, lent or left to the institution in people's wills, in addition to works commissioned by the Hospital.
Spedale degli Innocenti: places to see in the area