Revolutionary royal silk
San Leucio: the ancient village transformed in Royal silk factory.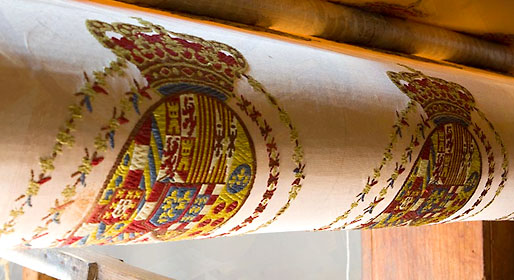 Just a few kilometers from the Royal Palace of Caserta, there is a unique example of illuminist-inspired imperial Utopia.
Royal Palace of Caserta: Skip The Line
The most spacious royal palace in the world.
Get your tickets now!

In 1759, when Charles III was crowned King of Spain, he left the rule of the Kingdoms of Naples and Sicily largely in the hands of his third surviving son, Ferdinand IV. Among his many ground breaking projects, Ferdinand transformed the Palazzo del Belvedere, at the time used as Royal hunting lodge, into a factory, and the small village of San Leucio, into a full-scale industrial and social experiment. Thus, in 1778, the utopian town of "Ferdinandopoli" was created: an ideal city constructed around a Royal Silk Factory.
Never before had a king chosen to construct a manufacturing plant, complete with dwellings for the workers, so close to his personal sphere. At San Leucio, the production of silk involved what were at the time the most advanced technologies in the whole of Europe. The local people were involved in every stage of production, from the farming of the silk worms, to the spinning of the dyed thread, using machines propelled by water power, to the weaving of textiles on sophisticated cherry wood looms. The Code of Law issued in 1789 was quite revolutionary: men and women who worked in the silk factory enjoyed equal rights and their salaries were set according to merit; compulsory education was free of charge; and part of the workers earnings were deposited in a Charitable fund for the sick and elderly. The king's donation of a loom to every family, so that the art of silk weaving would continue down the generations, is another example of Ferdinand's legendary "noblesse oblige". The fame of the royal silk factory of San Leucio spread throughout the courts of Europe, the members of which were soon all eager to purchase the valuable cloth. Although Ferdinand's utopian dream was rudely interrupted in 1799 by the onset of the French Revolution, San Leucio continued to produce precious silk, and even today the flags of both the White House and Buckingham Palace are made here, in Caserta's Royal Silk Factory.
The restored Royal Silk Factory has been declared a World Heritage Site by UNESCO. Visits to the site include a tour of the Royal Apartments, to admire the splendid frescoed halls and the sumptuous baths realized for Queen Maria Carolina; the Belvedere Gardens, with their view of the Royal Palace; and the Weavers' House, which offers a fascinating insight into how the average worker's home would have appeared. The Silk Museum contains a number of perfectly functioning looms and replicas of the water powered machines used to spin the thread.
Real Fabbrica della seta di San Leucio
Toll free number: 800.41.15.15
Tel. +39 0823 301817
www.realbelvedere.it
Winter opening hours: from 9.00hrs to 18.00hrs (the last visit commences at 16.30hrs)
Summer opening hours: from 9.30hrs to 18.30hrs (last visit commences at 17.00hrs)
Closed on Tuesdays