5 Memories for 5 Terre
Our Tips for the Cinque Terre, Memorably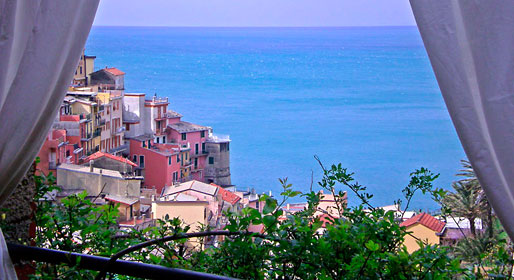 For centuries - millenia, perhaps - Italy's Cinque Terre, five tiny fishing villages clinging to the craggy Ligurian coast including Monterosso, Vernazza, Coniglia, Manarola and Riomaggiore, were so far removed from the rest of the world that they came to be called the "Five Lands". Tiny microcosms of humanity isolated by the sea to the west and the mountains to the east, these five worlds existed in their own universe, ruled by the rhythm of the tides and passing of the seasons.
And then they were discovered.
In the decades between the 1990s and today, the Cinque Terre have become anything but isolated. One of the most popular destinations for visitors to Italy, who are drawn to their almost fairy-tale beauty and tales of their "sleepy" air, this stretch of Ligurian coast can become impossibly crowded during the high season from spring to fall, as daytrippers pour in to snap their pictures and take their walk on the famed coastal trail.

But don't do that. Don't rush through in a day, seeing a town or two elbow to elbow with thousands of others. Come and stay, at least for a few days. Maybe even a week. Explore these terraced slopes, now protected as part of the Cinque Terre National Park, with measured pace and care. See the villages how sailors have first spotted them for centuries: from the sea. Dive in the pristine waters. Sample the excellent local wine, olive oil, and traditional dishes. Participate in a village festival. Make memories, not snapshots.
Cinque Terre: Guided Tour
A historical tour of the Cinque Terre villages
Get your tickets now!

Here are five memorable suggestions for an unforgettable visit to the Cinque Terre:
A Memorable Arrival
Most visitors to the Cinque Terre arrive by land (by train from La Spezia or by car using the winding, inland mountain road that connects the villages), but if you want your first glimpse of the coastline to be seared on your grey matter forever, there is only one way to travel: by boat.
There are a number of boat tours and excursions that depart from nearby Levanto, Portovenere, Lerici, and La Spezia and stop at some or all of the five villages for a visit or to disembark (check carefully to make sure you can get off at the correct town if you need to check in to your hotel...most boats don't include a Corniglia stop as this town has no direct access to the sea).
Want an arrival that's extra-special? Then book a private boat with skipper for the maximum of privacy and flexibility. With your own boat, you can decide on a schedule and pick and choose your own stops under the guiding hand of your sailor. Try expert local skipper Stefano with Matilde Navigazione, or Angelo from Angelo's Boat Tours for more of a party boat atmosphere.
Walk the Walk
Everyone once walked the Via dell'Amore. Everyone. Even people who were very clearly not kitted out for walking and not in the habit of doing anything more strenuous that roundtrips to the fridge. Why? Well, it was one of the more scenic stretches along the coast, relatively short, simple, and connected two of the more visited towns.
Unfortunately, because of recent landslides the Via dell'Amore, more specifically the short (about a 20 minute walk) section between Riomaggiore and Manarola of the longer Sentiero Azzuro, has been closed indefinitely. Currently, the only sections of the 11 kilometer-long coastal hiking trail open are those that run between Vernazza and Corniglia and Vernazza and Monterosso. These are less trafficked sections of the Sentiero Azzuro, more challenging, steep, and narrow, but it is also less crowded and with absolutely stunning views.
Alternatively, explore one of the other hiking trails in the Cinque Terre National Park. For more advanced hikers, the High Trail connects the steep hilltops behind the Cinque Terre further inland and stretches as far as Portovenere to the south and Levanto to the north (but has secondary connecting legs downhill to each town, so you don't have to hike the entire length).
You can also follow the Sanctuary Trails, which connect each town center to the local shrine perched above. For any of these hikes - but especially the High Trail and Sanctuary Trails - you'll need a good map and updated information on the trail conditions.
Wine (and Dine)
Liguria in general, and the Cinque Terre in particular, are known for their kilometers of terraced coast, blanketed by vineyards producing some of Italy's finest wines. For some tips about which one to try and where, we went right to the experts and asked local sommelier Kate Little of Bella Vita Italia, for her take:
The Cinque Terre is home to a handful of boutique wineries- some making less than a thousand bottles a year of the Cinque Terre DOC dry white wine and the Cinque Terre Sciacchetrà dessert wine. Since the landscape was modified over the past thousand years for the sole purpose of creating space for vineyards, the Cinque Terre was created and maintained primarily for the cultivation of vines and its winemaking economy. As a tourist, a way to support this tradition is to seek out and enjoy the wines of these hardworking winemakers such as Luciano Capellini in Volastra, Vetua in Monterosso, Cheo in Vernazza, Terre Sospese and Walter de Battè in Riomaggiore (and many more).

Ask your restaurant to recommend a local bottle, perhaps made by someone they know. The price of Cinque Terre wines is higher than most Italian white wines but the unbelievably difficult work that goes into making each bottle not only creates a uniquely characteristic wine, it also assures the sustainability of the terraced hillsides.

Visit the Enoteca Internazionale in Monterosso (Via Roma 62). It has a great selection of small-batch wines by the glass and a helpful, knowledgable staff.

Go Beneath the Surface
The Cinque Terre isn't just a national park...it's also a marine sanctuary with crystalline waters, unspoiled coast, and fabulous marine fauna and fish. If you'd like to see what is swimming beneath these Mediterranean waves, many private boat skippers (see above) can take you out on a snorkeling excursion (often providing the basic equipment) exploring the coves and inlets along this rocky coast.
For the more enthusiastic (and experienced) who would like to scuba, consider booking diving guides Ivaldo, Aldo and Giada from 5 Terre Diving in Riomaggiore. They offer a number of guided dives suitable for beginning to expert licensed divers, and can provide snorkeling equipment and sea kayaks to keep your non-licensed travelling companions happy and occupied on the surface while you discover what lies below.
Celebrate
Italy is a country of festivals, feast days, and fairs, and the Cinque Terre are no exception. There are a number of local annual events focused on food or faith that are fun to work into your stay and provide a unique window into the culture and history of this tiny corner of the Bel Paese.
Some of our favorites are:
Food:
The Sagra dei Limoni (Lemon Festival) Monterosso: held one weekend in May, with competitions and tastings.
The Sagra dell'Acciuga Salata e dell'Olio d'Oliva (Anchovy and Olive Oil Festival) Monterosso: held each year in September to celebrate these two excellent local specialties.
Faith:
Feast Day of Saint John the Baptist (June 24th) Monterosso: celebrated with local dishes and fireworks
Feast Day of Saints Peter and Paul (June 29th) Corniglia: a traditional cake, La Torta dei Fieschi" is distributed to celebrate
Feast Day of Saint Margaret (July 20th) Vernazza: a solemn Mass and procession are held to honor the patron saint.
Feast Day of Saint James (July 24th and 25th) Levanto: a procession with local men carrying massive, heavy crosses from the church to the sea is the focalpoint. Once there, thousands of floating candles are released on the waves and a firework display finishes off the celebrations.
Feast Day of Saint Lawrence (August 10th) Manarola: celebrated with a procession and blessing of the sea, and art exhibition.
Our Insider is
Could you be our next Insider? Share your love of Italy by contributing to ItalyTraveller! See how!