The Art of Hospitality
Hotels where a good night's sleep is a work of art.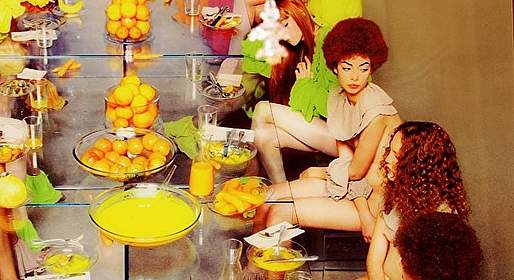 Ever wondered what it would be like to overnight in an art gallery? Book a room in one of these six hotels that combine hospitality with art and find out!
Park Hotel ai Cappuccini - Gubbio
Renaissance paintings, Flemish tapestries, and sculptures by the Italian artist Arnaldo Pomodoro: you'll find all three at Park Hotel ai Cappuccini, a 17th century monastery transformed into four star resort and spa located just outside the medieval walls of Gubbio.
Pomodoro (the creator of the massive golden sphere in the dining room) is not the only contemporary artist to have contributed to the hotel's collection...look carefully and you'll be able to spot works by Giuseppe Campogrossi and E. Abbozzo too...
Byblos Art Hotel - Corrubbio di Negarine
The last thing you'd expect to find within the 16th century walls of Villa Amista, a Venetian-style residence just outside Verona, is one of Italy's eclectic collections of contemporary art ever. But once you step inside the sumptuous residence, you are greeted by a dazzling display of color, ranging from the light to the bright to the down-right psychedelic.
Damien Hirst, Anish Kapoor, Takashi MuraKami, Vanessa Beecroft, Richard Stipl: just 5 of theover 40 renowned artists whose works adorn Byblos Art Hotel's unashamedly eclectic reception lobby, restaurant, meeting rooms and suites.

Romeo Hotel - Naples
With 83 super-accessorized guestrooms, a futuristic spa, a Michelin-starred restaurant, a sushi bar, and a panoramic roof-top swimming pool facing the Bay of Naples and Mount Vesuvius, Romeo Hotel is one of the most desirable design hotels in the whole of Italy.
"He could have done the usual thing and bought a soccer team but luckily Italian business tycoon, Alfredo Romeo, decided to buy a hotel and amazing artworks to fill it with instead!"

Romeo's collection of contemporary art includes works by Mimmo Paladino, Mario Schifano, Gregorio Notta, and Neapolitan artists Francesco Clemente, Lello Esposito, Maddalena Ambrosio, Christian Leperino, and Sergio Fermariello, all of whom created one-of-a-kind pieces especially for the hotel.
Micalò - Naples
It may be significantly smaller (and significantly cheaper!) than Romeo, but boutique hotel Micalò is just as stylish as its flashy, five star neighbor.
Micalò's cool and contemporary duplex bedrooms are fitted with all of the latest in hi-tech gadgets, from plasma satellite television to Wifi and Ipod docking stations.
And the art? With wonderful views of the Bay of Naples and the island of Capri, the hotel's intimate Art Bar provides a panoramic exhibition space for works by both emerging and established Neapolitan artists.
CapriSuite - Capri
Two rooms and a whole lot of art: tucked away amidst the narrow lanes of Anacapri, within the thick 17th century walls of what was once a Theresian convent, CapriSuite is without a doubt one of the island of Capri's hippest hideaways ever.
As modern as they are Mediterranean, CapriSuite's light-filled living spaces provide the perfect backdrop for iconic items of Italian interior design such as Paolo Piva's steel and glass coffee tables, as well as poster-size prints of photographer Luciano Romano's works and bright blue and yellow linens by Livio de Simone.
Casa Angelina - Praiano
Arguably the coolest place to sleep on the whole of the Amalfi Coast, Casa Angelina boasts seriously sexy suites, a regularly raved-about rooftop restaurant, a panoramic pool, a super spa, a private beach (accessed via a gleaming glass elevator - thank you very much), and, last but not least, a priceless collection of contemporary artworks which includes colorful ceramics by Sergio Bustamante, creations in Murano glass by Gina Nahle, oil paintings by Patricia Valencia Carstens and bronze sculptures by Tim Cotteril.
On the outside: the deep blue sea washing the shores of Praiano. On the inside: dazzling white designer interiors, so crisp they could crunch - and a colorful collection of contemporary art from Mexico, Lebanon, Argentina and beyond...
Our Insider is
Could you be our next Insider? Share your love of Italy by contributing to ItalyTraveller! See how!