Tuscan Treasures
Shopping for Traditional Arts & Crafts in Tuscany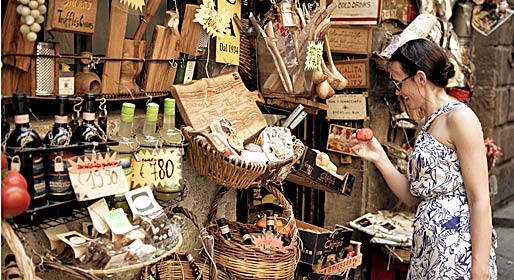 The almost-too-perfect-to-be-believed villages that dot Tuscany's iconic rolling countryside are havens for many different categories of travellers, from the wandering photographer to the wandering foodie to the wandering art historian to the wandering, well, wanderer.
But they are also a fabulous destination for a somewhat surprising type of traveller: the wandering shopper.

Not so much the big discount outlet shopper (though that can be had in this country known for its fashion and design) or the cut price mass-produced tchotchke souvenir shopper (you'll have to head to Florence for your David barbeque apron and Botticelli placemats), but the more discerning shopper who is looking for unique treasures, handmade and imbued with a sense of place and history unique to artisan crafts.
Photo by Matt Browne via Flickr
Tuscany is, despite its postwar development, still a region where the small, family-run, traditional workshop reigns supreme. Here is where you can find the tiny shops carrying handcrafted leather purses, majolica plates, marbled paper, or fine linen...often sold by the very same person who created these one-of-a-kind masterpieces.
Here are a few of the Tuscan treasures travellers through these beautiful hilltowns should keep an eye out for:
Leather
Though Florence is the most well-known destination in Tuscany for quality leather, there are a workshops across the region which equal, if not surpass, the workmanship in Florence.
Arti Minori in the center of Siena and Quel Pellaio di Diego in tiny Suvereto (in Tuscany's Maremma) are both old school shoemakers making new school quality shoes. The latter makes not only men's and women's leather loafers (nearly indestructable), but also specializes in Medieval shoes, copying designs from paintings and historic descriptions.
For purses, jackets, and accessories, the Montini family has been in the leather business for three generations and has shops in Arezzo (Viale Osimo) and tiny Badia Tedalda. Or, if you are passing through picturesque San Gimignano, stop by Le Torri (with three shops in the miniscule center, you can't go more than a few steps without coming across one).
Photo by Franco Folini via Flickr
Photo by Steve Jurvetson via Flickr
Ceramics
Some of Italy's most famous ceramics come from tiny Deruta in Umbria, Tuscany's neighbor to the southwest, but the Tuscan town of Montelupo Fiorentino is similar to its Umbrian twin in history, artistry, and sheer number of artisan workshops. Wander the town's main streets, lined with pottery shops selling handpainted traditional and contemporary designs, and choose an intricately decorated piece (or two) to bring a little Tuscany into your home.
Impruneta, instead, is known for its terracotta work, including tiles and bricks, but also pots, urns, and other decorative pieces. Thanks to its clay-rich soil and relatively dry climate in the hills south of Florence, this small town has built up a reputation for its quality terracotta over almost a millenium.
Linens
Busatti's fine linens are sold in luxury houseware boutiques across Italy, but this historic textile atelier was founded in Anghiari, an ancient walled town near Arezzo. The vaulted showroom is as pretty as the linen and cotton wares, which are woven on looms dating from the 19th and early 20th century.
For something even more intricate, the handmade merletto a fusilli (bobbin lace) local to San Sepolcro harks back to a time when women would work for months to create a single breathtaking piece. Now home to the Scuola del Merletto (lacemaking school), which works to preserve and pass on this dying art, San Sepolcro is still known for its quality lace and hosts an international lace exhibition every two years in September. You can find pieces on sale at two local shops: Il Telaio (Via Matteotti) and Busatti (Via della Francesca Piero).
Photo by Juliet Earth via Flickr
Gold
Window displays crammed with gold jewelry crowd the Ponte Vecchio in Florence, as they have since the 1500s when the Medici duke Ferdinando I decided to replace the butcher shops there with a trade a bit more noble. Today, there are still goldsmiths in Florence, but the lion's share of Italy's gold trade actually takes place in the Medieval town of Arezzo.
Jewelry production in Arezzo dates back millenia to the Etruscans, though much of the contemporary trade is on a large, commercial scale. That said, there are still artisan goldsmiths to be found, including Sanarelli Alberto (Via Vittorio Veneto) and Eclet (Via Cavour), which sells pieces from a number of local designers.
Alabaster
The Tuscany town of Volterra sits on a unique geological treasure: millions of years ago, the marine salts solidified with other minerals forming vast expanses of alabaster, that soft, translucent stone used for windows and lamps before glass was introduced into Europe from the Orient.
The rich tradition of working alabaster continues here, and there are a number of historic family workshops (and an excellent museum) specialized in decorative objects and jewelry drawing from almost 3,000 years of history in the old town.
Knives
The Medieval town of Scarperia in Mugello (outside of Florence) has a long tradition of working iron into precise (and deadly) blades. The local Museo dei Ferri Taglienti knife museum documents much this history, and, after a near demise in the early 1900s (when a ban was imposed on pocket knives longer than a man's palm), this proud local craft is back.
In the center of town, a number of artisan workshops and boutiques carry unique, quality handforged knives, and visitors should keep an eye out for the local Berti, Consigli, and Saladini products.
Crystal

Yes, the Venetian island of Murano is most famous for its glass, but the tiny Tuscan town of Colle di Val d'Elsa has also been producing glassware since the 1300's, and is still by far Italy's largest center of crystal, producing more than 90% of the nation's (and 15% of the world's) crystalware.
Though much of the crystal is made by modern automized factories, you can also find more traditional crystal-blowing workshops and a number of specialized boutiques in the village center carrying handmade pieces by local artisans.