Family treasures
The Correale brothers' art collection on public display in Sorrento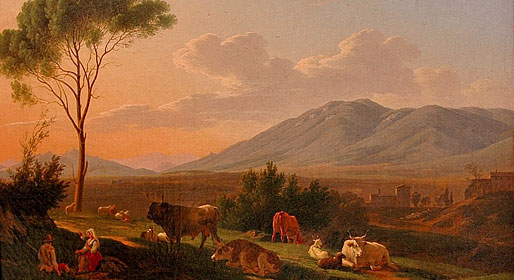 Of all the sites of artistic interest in the historic seaside town of Sorrento, the Correale Museum has to be one of the most fascinating.
One of Italy's finest private art collections
Inaugurated in 1924, in accordance with the will left by the brothers Alfredo and Pompeo, the last descendents of Sorrento's titled Correale of Terranova family, the museum occupies the 19th century Villa della Rota, a luxurious residence with splendid views of the Bay of Sorrento.
The ground floor of the villa contains a collection of exhibits originating from the various archeological sites in Sorrento: pre-historic bronzes, Ancient Greek statues, and vases dating back to the times of the Roman Empire. There are also pieces believed to have belonged to the ancient Cathedral of Sorrento.
A family from Sorrento
A number of rooms recount both the history of the Correale family, by way of a series of 19th century portraits of family members, and the history of Sorrento, with scenes of everyday life, mosaics, and examples of the town's famous inlaid woodwork.
Neapolitan mannerism
The first floor of the museum houses an impressive collection of works by 16th and 17th century Neapolitan mannerist artists, all of whom were profoundly influenced by Caravaggio, and who produced a series of stunningly realistic and daringly innovative still-life paintings.
Amongst the landscapes, the "Marina with Fishermen" by Salvatore Rosa and the works of Domenico Gargiulo are particularly worthy of note.
The collection which might easily have remained locked behind the doors of the family home, had the cosmopolitan-educated Correale brothers, inspired by their many journeys to visit Europe's great museums, not decided to share their artistic treasures with the general public

Ceramics , majolica and timepieces
One of the most important sections in the museum is located on the third floor of the villa and hosts a collection of artistic ceramics and majolica, including pieces of oriental origin and a gallery of works which testify to the artistry of the 18th century French and Neapolitan schools.
A collection of antique watches and clocks is also located on the third floor.
The Posillipo school
The so-called "Posillipo School" dominates the second floor of the museum, in the form of canvases by those Italian and foreign painters who, following the impetus produced by the Grand Tour, all fell hopelessly in love with the Sorrentine peninsula and dedicated many small, brightly colored paintings to Sorrento and the surrounding land and seascapes.
Correale Museum of Terranova
Via Correale, 50
Sorrento (Napoli)
Tel: +39 081.878.18.46
Opening hours: from 9.00 to 14.00. Closed Tuesdays