Capri's Sea Wolves
Photos of Capri's "sea wolves" capture the authentic side of this glamorous island.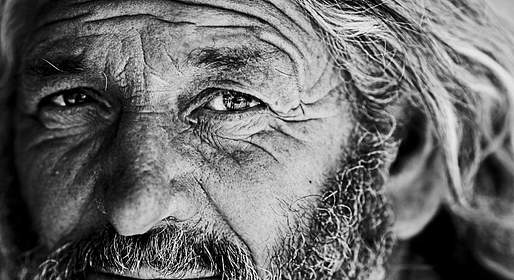 It was while I was working on the island of Capri, the preferred playground of the rich and famous ever since the notorious party animal Emperor Tiberius chose it as his elected residence, that I came across my first "lupo di mare".
Despite the name, a lupo di mare, or sea wolf, is not some legendary creature, half-dog and half-fish, rather it is the name given to a sailor, the kind of weathered skipper or fisherman who has experienced endless storms and any number of shipwrecks and, most importantly, lived to tell the tale.
How to recognize a sea wolf when you see one? Battered by the wind and waves, these men have the sun and sea etched deep into their faces, faces which tell a tale of hardship, heartbreak and hair-raising adventures... and of a Capri very different from the one you'll see in the glossy magazines. The life of Capri's sea wolves is, in fact, anything but glamorous.
If there's a man who has been able to hunt down and capture Capri's sea wolves on film better than anyone else, it's the photographer and video-maker Umberto D'Aniello.
I first came across Umberto D'Aniello's work, back in 1999. I was immediately struck by the power of his images of Capri and his ability to transmit the unexpectedly wild beauty of the island. Just as his images of the island are filled with an almost unnerving intensity, Umberto's portraits of its inhabitants are among the most penetrating I have ever seen. So you can imagine my delight when he accepted to grant me this short interview.
If you're born on an island, like I was born on Capri, you'll always feel the pull of the sea. For me, the sea is synonymous with travel, freedom, infinity... and nostalgia. The sea has a soul and a beauty which changes according to the season. That's why I love both calm summer and stormy winter seas. Every time I am far away from the island, sooner or later I find myself searching for and gravitating towards the ocean. The sight, sound and smell of the sea have been such constant companions, I can't imagine what my life would be like without them.
And Capri's fishermen? What made you choose to photograph them and make a film about them?
Ever since I was a kid, I've been fascinated by the faces of the island's fishermen and so, as soon as I got my hands on a camera, it was only natural that they were one of the first things I photographed! Their eyes, in constant contact with the sea, have a special light in them, they sparkle like stars. Their wrinkles testify to the long nights and early mornings spent on the sea, far from home. Unfortunately, for various reasons, their world is gradually vanishing. That's why I feel even more compelled to immortalize those faces, those sensations, which are destined to disappear.
How did they feel about being photographed?
Almost all the fishermen I approached were willing to be photographed. In part because I'm a fellow islander, in part because they know how I work. I always tried to photograph them as they went about their everyday business. Nothing staged or artificial.
What role do the fishermen have in island society today? Has it changed over the last few decades and if so, how?
Sadly, I think their profession, which entails great sacrifice and hard work, is destined to die. There are fewer and fewer fishermen on Capri, partly because of the ever increasing restrictions and regulations... This said, those who remain never fail to attract the attention of the media, especially the foreign media; because they continue to represent the real Capri.
Inhabited by men as rugged as the island's rocky coastline, who make their living through hard and relentless physical work, the Capri you depict has nothing to do with the wrinkle-free, botox-generation posing in the Piazzetta...
In recent years, in addition to taking photos, I've realized a series of videos for the Isola Autentica project, with the intention of showing people the Capri I love. The Capri in these videos is, for me, the real, "authentic" Capri. The other Capri doesn't interest me. If anything, it disgusts me. I much prefer Capri in winter, a season when I can walk undisturbed for hours, with my camera at the ready, experiencing the inner peace and the inspiration which only this magical island gives me.

Want to see more of Umberto's work? Visit his website or view his video.

Our Insider is
Could you be our next Insider? Share your love of Italy by contributing to ItalyTraveller! See how!