Hotels to remember: Villa Borghese
Villa Borghese: introduction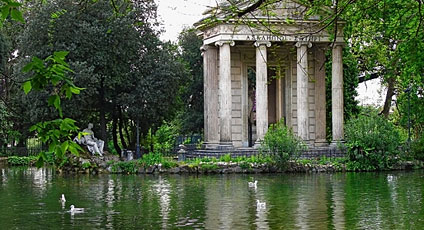 For those wishing to relax, stroll through the gardens, take part in sport or immerse themselves in internationally famous art works, Villa Borghese is the site in Rome to head for. Its long avenues provide the ideal environment in which to skate, rollerblade, skateboard, mountain bike, or simply enjoy walking.
Rowing boats can be hired for trips on the lake. In the area next to the Piazza del Popolo, il Pincio, one can enjoy the splendid panorama over the Vatican and Mont Mario. At the height of the Galoppatoio visitors can gaze out over the entire historic center of Rome from an electric hot air balloon.
Villa Borghese is also a center of culture, with a gallery housing art works of great importance, such as the sculptures by Antonio Canova and canvases by Caravaggio. In the part of the park in front of the Piazza di Siena is the museum dedicated to the sculptor and composer Pietro Canonica. Among the events hosted at Villa Borghese is the famous annual equestrian competition.
Villa Borghese: places to see in the area