Wellness paths
A wellness center and luxury hotel in the National Park of the Maiella.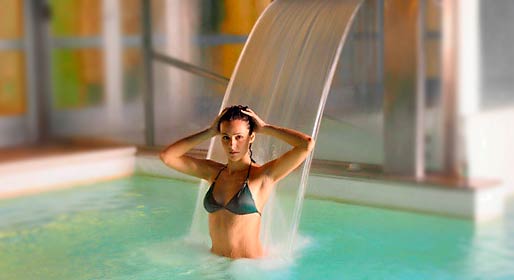 The unspoiled landscapes of the Orfento Valley, in the heart of the National Park of the Maiella, provide the spectacular backdrop for Caramanico Terme's Hotel La Réserve.
Nature and design
The innovative design of Le Réserve led to its being exhibited at the VI Biennale of Architecture in Venice

Set in a beautiful natural environment in which to experience the pleasures of pure air, lush woodland and soothing thermal waters, the hotel has been designed so as to be in perfect harmony with the surrounding countryside.
Water world
The wellness center has a superb outside swimming pool filled with warm sulphurous thermal water, the cleansing and exfoliating properties of which produce a natural peeling effect, leaving the skin immediately softer and alleviating eventual muscular tension.
The pool is open until midnight, and can even be reserved for skinny dipping with a partner or a group of friends!

In addition to the main thermal pool, wellness facilities include a panoramic inside pool equipped for counter current swimming, a vascular gym, sauna, Turkish bath, and a pool in which specific therapeutic treatments like Watsu and Aqua Mater are performed.
Global beauty
At La Réserve, guests have the opportunity to choose from any of a series of Wellness Paths which exploit the beneficial properties of thermal water, mud and steam in combination with a variety of the world's spa disciplines.
The Orient Path, for example, combines thermal treatments with Thai, Shiatsu and Ayurveda massages in order to restore well-being and boost energy, whilst the New Balance Path uses both oriental and western techniques to balance the metabolism.
Naturally, all paths can be personalized and modified to suit each individual's specific needs.
Life at the top
At La Réserve, the concept of well-being extends to the pleasures of listening to music, reading a book, and watching a film in total tranquility. For this reason, the top floor Espace 401 has been created: a unique, light filled space with immense windows overlooking the mountains of the National Park of Maiella.
La Reserve Centri Benessere
Via Santa Croce
65123 Caramanico Terme (Pescara)
Tel. +39 085 92391
www.lareserve.it

Hotels in the area


0 ft
San Martino Sulla Marrucina