The image museum
The Alinari National Museum of Photography in Florence.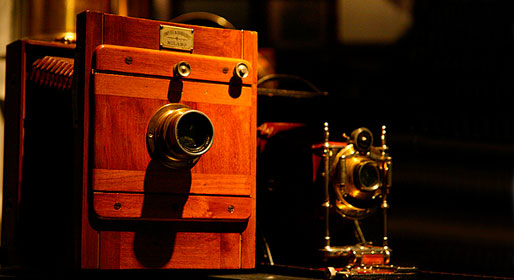 In 1852, the Alinari brothers opened a photographic workshop in Florence, specializing in photographic portraits and images of works of art, which quickly met with great national and international success. Today, the Fratelli Alinari Photographic Studio can legitimately claim to be the oldest photographic company in the world. Year after year, side by side, Fratelli Alinari and the art of photography have evolved, and the Alinari Archives now contain a staggering 4 million images: a priceless visual heritage which documents in photos not only the history, landscapes, society, art and traditions of Italy from the second half of the 1800's to the present day, but also those of Europe and the rest of the world.
Whilst the company archives are conserved in the historic Palazzo Alinari, the MNAF, the Alinari National Museum of Photography, is located in Florence's 15th century "delle Leopoldine" in Piazza Santa Maria Novella. The museum is comprised of an area for temporary exhibits and a permanent exhibition space dedicated to the history and evolution of photographic techniques.
The seven sections of this museum of images start with the origins of the media, and go on to explore the so-called "golden years of photography" (from 1860 to 1920), the avant-garde, and modern day photography; with references to the 19th and 20th century photographers responsible for images which have become part of the collective imagination.
The MNAF has other interesting sections too: from those dedicated to the history of cameras and photographic albums to the fascinating Touch Museum. The Touch Museum's tour itinerary, created in collaboration with Tuscany's "Stamperia Braille" and the Italian Association for the Blind, features a series of relief interpretations of 20 of the photographs in the exhibition, created so that visually disabled visitors can experience the artworks via touch. This section is open both to the visually impaired and the sighted, and offers all visitors a unique sensorial experience.
Guided visits to the historic Fratelli Alinari Photographic Studios are organized for groups only. Visitors are introduced to one of the world's most complete photographic libraries, the restoration laboratories, and the "stamperia d'arte", the only atelier still practicing the collotype method of printing.
MNAF Museo Nazionale Alinari della Fotografia
Piazza Santa Maria Novella, 14a rosso
Florence
www.alinarifondazione.it
Opening hours: from 10.00hrs to 19.00hrs
Closed on Wednesay
Hop-on Hop-off Bus Florence
Jump on-board and travel in style between 44 must-see locations.
Get your tickets now!