Sandali capresi
Canfora of Capri and the sandals which seduced Jackie Kennedy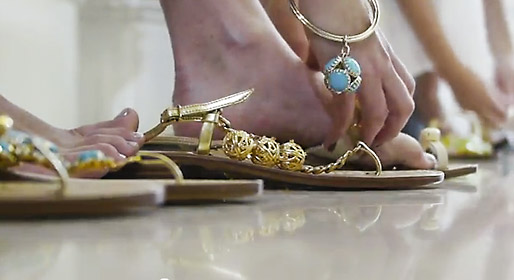 Think "Capri sandals" and, almost inevitably, an image of Jackie Kennedy, who was mad about the things, comes to mind. In reality, the island's sandals were first discovered not by America's most glamorous first lady but by Diana Vreeland, the legendary editor of Vogue America. During her travels in Italy's Campania region, Vreeland had been smitten by a pair of toe-strap sandals which she had seen, on the feet of a Roman slave, on a wall painting in Pompeii. When she reached Capri she met artisans capable of recreating what she had seen in Pompeii to perfection: the rest, as they say, is history...
Amedeo Canfora and his hand-stitched sandals shop
When the Second World War ended, Capri soon became a preferred playground of the rich and famous. The island had only a few hotels and the locals were almost all fishermen or craftsmen. His hands full of talent, his head full of dreams, in 1946 Amedeo Canfora opened a small shop opposite the historic Hotel Quisisana from where he began to sell his hand crafted sandals.
Grace Kelly and co. - customers with a capital C
There was something special about the sandals made in Amadeo Canfora's workshop and word soon spread that they were the best on the island. In the meantime, Capri had become an obligatory port of call for the international jet set and a symbol of Italy's Dolcevita lifestyle. Grace Kelly, Soraya, Maria Callas: all the world's divas sooner or later visited the island and, whilst they were there, Canfora's sandal shop.
Jackie O and the famous midnight shopping spree
Amedeo was extremely discrete as far as his celebrity clientele was concerned, but when Jackie Kennedy Onassis asked him to open his shop at midnight so that she could choose her sandals in peace, the story hit the international headlines in no time!
Canfora created his elegant K model, featuring a triangle of interlocking rings, especially for Jackie

A true style icon, Jackie had immediately identified the sandals as the ideal footwear to complete her fresh and casual Capri look: cropped trousers, a white and blue striped top and flat sandals, which both slimmed the foot and were ideal for strolling along the island's steep cobbled streets.
Three generations of master cobblers
After more than 60 years in the business, Amedeo Canfora's shop is still there, in '''Via Camerelle''', which, in the meantime, has become the most fashionable street in the whole of Capri. A third generation of the Canfora family now runs the company, with the same passion as their grandfather, Amadeo. Canfora sandals have become a symbol of the island and are made in the same workshop, using the same 100% Italian materials, to this very day.
How to recognize an authentic pair of Canfora sandals? Turn the shoes upside down to make sure the sole has been stitched and not glued together (you'll be able to see the thread). All that's left to do now is choose one of the many dozens of styles...
Canfora
via Camerelle 3 Capri (NA)
Tel: +39 081 837 0487
www.canfora.com