Lake & Spa
Wellness on the shores and in the hills around Lake Garda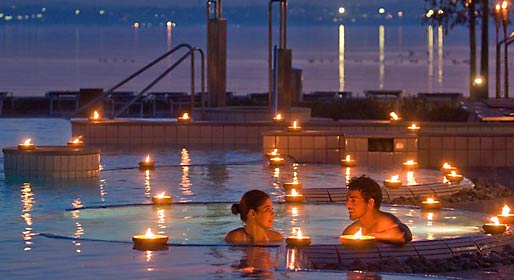 Feeling stressed? It's time for a relaxing and regenerating holiday, in a peaceful place, where nature is the major protagonist and the sensations of wellbeing are guaranteed - all year round.
A place like Italy's Lake Garda, famous for its wonderful mild climate, magnificent villas, gorgeous gardens, and the health-inducing qualities of its mineral-rich spring water - used in a string of lakeside thermal centers and spas.
Where to stay on Lake Garda? Villa Onofria is the ideal choice if you want to experience both the natural beauty of the Italian lakes and the well-documented benefits of Sirmione's thermal water

Naturally beautiful
Even if you haven't visited the gorgeous Lake Garda yet, you'll no doubt of heard about this, the largest lake in Italy, and the town of Sirmione, famous for its finely conserved medieval castle.
What you may not know is that the hills above Lake Garda are home to some of the most beautiful villages in the whole of Italy too.
Between Lake Garda and the Po valley, the rolling Morainic hills of Mantua are dotted with any number of miniscule villages and tiny hamlets, all steeped in history and oozing with chocolate-box charm

Villages like the medieval Castellaro Lagusello with its lovely little heart-shaped lake, and Borghetto, at the ford of the Mincio river, famous for its Visconteo bridge, Valeggio castle and church of St Mark the Evangelist.
Credit: Alessandro Tabacchi
A glassful of Garda
After a leisurely stroll through the peaceful lanes of Borghetto, stop off for lunch or dinner in one of the local Inns. What to order? Try the capunesi: small gnocchi made with bread crumbs and cheese served in a piping hot broth.
Whilst you're wondering in the hills above Lake Garda, take the opportunity to taste the excellent Lugana DOC wine produced here. This intensely flavored and elegant white wine is often paired with lake trout and eel.
Spa park
Want to enjoy an entire day of unadulterated (and well-deserved) self-indulgence?
Acquaria, a massive,10.000sqm indoor and outdoor thermal park, is the place for you!
While away the hours bathing in the thermal and hydromassage pools, snoozing on the effervescent loungers, chilling in the multi-sensory relaxation areas, comprised of a salt wall, music room and starry sky rooms, working out in the gym or simply strolling in the park...

You can enjoy the spa park all year round: the temperature of the water never falls below 34 or rises above 36 °C, making bathing as pleasant in winter as it is in summer.
Never-ending relaxation
And once you return to the privacy of your apartment at Villa Onofria the only thing left to do is... relax a little more!
How? Indulge in a leisurely lakeside aperitif as you watch the sun setting over Lake Garda and wait for your romantic candlelit dinner to be served, by your very own personal chef....
Where to stay in Sirmione
Villa Onofria
Via Lugana Marina - 25019 Sirmione Lago di Garda (Brescia)
Tel. +39 339 1593098
Cell. +39 030 3546571

Main destinations