Diefenbach Museum
The impetuous works of Karl Wilheim Diefenbach in Capri's Certosa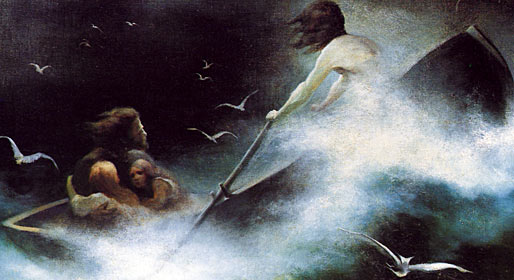 An obligatory stop on any tour of Capri, the 14th century Certosa di San Giacomo has evolved into one of the island's most important event venues and the impressive setting for the Diefenbach museum.
History of the Charterhouse
The Certosa was constructed in 1374 by Giacomo Arcucci, secretary of Giovanna d'Angio, as a sign of his gratitude for the birth of his son. Over the centuries, the Charterhouse and the monks who inhabited it were victims of numerous attacks by Saracen pirates. Today, part of the old religious complex is used as Capri's high school. The rest provides an oasis of peace and tranquility within steps of the Gardens of Augustus, which were built on the site of an Ancient Roman settlement.
Those visiting the Charterhouse to admire its 18th century fresco cycle and two exquisite cloisters will be surprised to find the works of Karl Wilheim Diefenbach, one of Europe's greatest symbolist painters, adorning the walls of the refectory

Defining Diefenbach
Born in Germany in 1875, from the word go, Diefenbach's unconventional lifestyle aroused just as much interest as his art.
Reformer, pacifist, vegetarian and nudist, Diefenbach advocated a complete spiritual re-orientation, involving the fusion of man, art and nature.
Together with his family, he went to live in a cave, where he received his rare visitors dressed exclusively in a white tunic.
The creation of a legend
Such eccentric behavior led to Diefenbach being considered a potentially dangerous subversive by the authorities and by his distraught wife who, exasperated by the alternative lifestyle imposed on her by her husband, attempted to poison him.
Despite the widespread opposition, Diefenbach's fame as an artist continued to spread throughout and beyond Germany and his 1891 exhibition in Vienna was even visited by the empire's ruling family.
Escape to Capri
Regardless of his success, Diefenbach's sense of persecution failed to wane and in 1900 he moved to Capri, with the intention of living on the island for the rest of his life.
"With these wild rocks which I adore, this tremendous and beautiful sea, Capri is all I will ever need"

This declaration of undying love for the island might be interpreted as key to Diefenbach's works, realized with a mixture of oil paint' and other materials, from sand to bitumen, in order to obtain new consistencies.
Back from beyond
After decades of obscurity, in the 1970's the 31 works of Karl Wilhelm Diefenbach's "corpus caprese", were donated to the Italian state. It is hard not to be struck by the tension which emerges from these paintings, characterized by sudden strips of light interrupting the darkness: the expression of the artist's conviction that "evil is the lack of light".
The poignant intensity of Diefenbach's works creates a striking contrast with the ancient candor of the Charterhouse, and testifies to the island's unique ability to attract dreamers and poets from every corner of the globe to its shores.
Diefenbach Museum
Charterhouse of San Giacomo
Capri (Naples)

Opening hours:
Tuesday-Saturday: 9.00 to 14.00
Sunday: 9.00 to 13.00 - Monday closed