Bruno Barbieri
In a 16th century villa close to Verona, menus to delight the senses.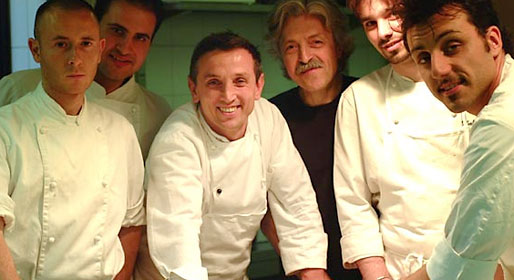 In the heart of Valpolicella, Hotel Villa del Quar stands out in terms of its architectural beauty and the immense value of the art works contained within its ancient walls.
The jewel in the crown of this romantic, luxury hotel is the property's award winning Arquade restaurant: worthy recipient of 2 Michelin stars and 3 Gambero Rosso forks.
King Barbieri
Since the year 2000, the Arquade is the realm of Bruno Barbieri, chef known to the general public thanks to his regular appearances on the Gambero Rosso Channel, occasions in which his irresistible Italian charm and undisputable culinary genius are displayed to the full.
Barbieri's kitchen rules are surprisingly simple:
1. use the highest quality prime materials
2. manipulate the ingredients as little as possible

Global gourmand
Whilst the Emilia-born chef's origins and the local Veneto traditions are present in his cuisine, these serve as creative stimulus, never constraint.
In fact, when asked from where exactly he gains his inspiration, Barbieri is likely to respond the entire world over. For Barbieri, culinary excellence knows no boundary.
Master menus
Barbieri's flavor-packed Back from the Market tasting menu is the perfect introduction to this talented chef's imaginative seasonal cuisine.
Of all the delicacies to be found on the Arquade's menu, the pappardelle with juniper scented hare ragout, Taleggio cheese sauce and white truffle deserve a special mention, as do the fried and caramelized chou buns with candied orange skins, English sauce and Canadian Maple syrup

Ensuring the perfect accompaniment to every meal, the restaurant's cellar houses some 550 labels, including the highly acclaimed Satyrus wine, produced using the grapes cultivated in Villa del Quar's vineyards.
Ristorante Arquade
Hotel Villa del Quar
Via Quar, 12
37020 Pedemonte (Verona)
Tel. +39 045 6800681