Bio-energetic paths
The Seghetti Panichi Historic Gardens in the Marche.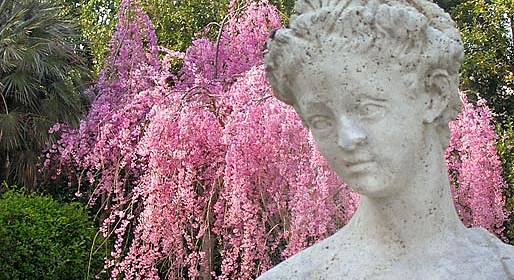 Sited on the hill overlooking the River Tronto Valley, and just a few kilometers away from the city of Ascoli Piceno, is the historic group of buildings which make up Borgo Storico Seghetti Panichi. This hamlet is comprised of an ancient medieval fortress, which was converted into an aristocratic country residence in the 18th century, an early 17th century oratory, the San Pancrazio Residence, and a number of other edifices, constructed between the 17th and 19th centuries. The entire complex has been transformed into a luxurious country hotel where a relaxing holiday in Italy's still largely undiscovered Marche region can be enjoyed.
Although now a prestigious resort, Borgo Seghetti Panichi became famous, not for its beautiful period buildings, but for its historic gardens. The gardens were created in 1875 by Ludwig Winter, the celebrated German landscape architect who, along with the Hanbury brothers, had been responsible for the design of Villa La Mortola's gardens in Ventimiglia. In the Marche, Winter designed the Seghetti Panichi gardens according to the fashion of the time, complete with a splendid collection of palm trees and terraced citrus trees. These "exotic" elements were integrated with plants typical of the region, such as copper beach, linden and oak trees, including the oak tree now referred to as the "cathedral" because of the incredible width of its trunk and spread of its canopy.
Parco Storico Seghetti Panichi
Wander around an Italian villa's breathtaking botanical gardens.
Get your tickets now!

Today, the Seghetti Panichi Historic Gardens are the first historic gardens in Italy to have bio-energetic paths. Using bio-energetic landscape techniques, the electromagnetic levels of the garden have been measured and bio-energetic areas identified based on the specific electromagnetism emitted by the plants and according to criteria studied by the bio landscape designer, Marco Nieri. As visitors enter each bio-energetic area, they are introduced to the therapeutic properties of plants, which, thanks to their correct positioning, have a positive influence on various organs of the human body. Thus whilst exploring the garden, visitors discover that holm oak stimulates cardio circulation, that laurel boosts the immune system and that holly has a beneficial effect on the nervous system.
Seghetti Panichi Historic Gardens
Via San Pancrazio, 1
Castel di Lama (Ascoli Piceno)
Reservations: Tel.+ 39 0736 812552
www.seghettipanichi.it