Wedding in Amalfi Coast
The sky and the sea for the perfect ceremony on the Amalfi Coast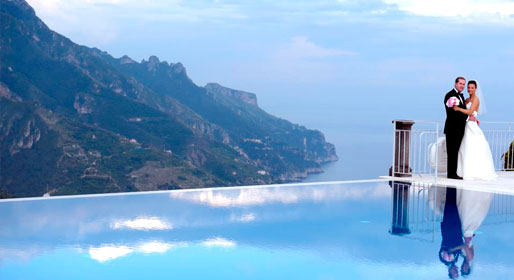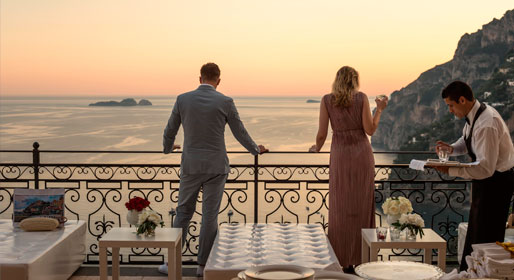 Breathtaking sea views and sunset unbelievable sceneries
The Amalfi Coast is a stretch of coastline in the South of Italy with picturesque villages, scent of lemons from the groves, colored warm atmospheres. The perfect mix between history and nature: from ancient treasures such as the Amalfi cathedral to lush vegetation and lemon cultivated terraces from the Blu Grotto or the Belvedere del Tuono to the glamorous Piazzetta in Capri.

The Amalfi Coast is also more than a dream in terms of food: authentic pizza, the best coffee, lemon, spaghetti, mozzarella, tomatoes of the world: than the mythical Limoncello and hundreds of traditional specialized recipes will give to every party, every reception, every tasting a special unforgettable touch. The perfect '''ceremony on the Amalfi Coast, Capri and Sorrento''' takes place at sunset, when the sun plunges into the sea.
The colors of the sky melt into the sea reflections offering unique and unforgettable emotions.
Thanks to the suggestive colors and the unparalleled warmth of Positano, Amalfi, Sorrento and Naples every picture becomes a wonderful postcard.
Weddings can be arranged in charming hotels perched on the rocks, where Italian taste meets the local tradition.
Reception dinners and night parties will be accompanied by the typical pleasant weather making delicious scents and sea breeze even more enjoyable.
The air will be filled with the notes of the most beautiful Neapolitan songs played by mandolin and guitar.
In fact many Villas on the Amalfi Coast offer the perfect solution for an unforgettable stay, granting at the same time the necessary intimacy and privacy for a very special wedding.
Or if you are planning your wedding in a different region of Italy, the Amalfi Coast, with its romantic retreats overlooking the blue Mediterranean Sea, is the best suited area to have a unique honeymoon experience.
For information please fill in our form.

Weddings Italy by Regency offers the unique possibility to organize a wedding with civil validity in a private location in Amalfi Coast and in Capri: one ceremony, recognized legally by law in Italy and in your country. Legal ceremony can take place in a villa's terrace with a view, or in a hotel's luscious garden overlooking the sea, perfect natural location such as La Migliera in Capri or in a middle age tower. Weddings Italy by Regency also arranges Catholic, Protestant, Jewish weddings in historical churches or intimate chapels.
We selected for you the best, romantic and fascinating wedding venues in Amalfi Coast, Capri and Sorrento.
Regency San Marino Srl - Weddings in Italy

Via Manetti, 34 cap 47891, Dogana
Repubblica di San Marino
Contact Numbers:
Tel. from US: 011-378 0549 941108 - 011 378 941108 Tel. from Europe: + 378 941108 - + 378 0549 941108
http://www.weddingsitaly.com/