Sea-scaping
Genoa and the Mediterranean: from Courbet to Matisse.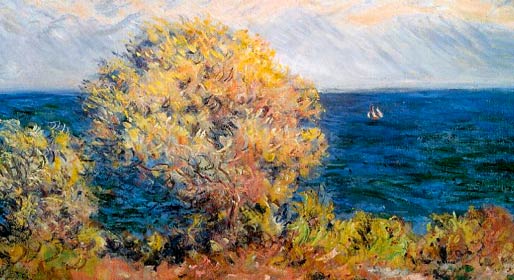 The 1st edition of the Biennale of Mediterranean Countries, inaugurated in Genoa on October 29th 2010, features a series of events exploring the historical, political and symbolical importance of the Mediterranean with a particular focus on the social, industrial and cultural development areas. Italy's ancient maritime republic, strategically located between the North and South, has assumed the role of Mediterranean capital for these meetings and exhibitions.
Genoa's Palazzo Ducale provides the venue for one of the most important of the Biennale's events: the exhibition "Mediterranean. From Courbet to Monte and Matisse" curated by Marco Goldin and Linea d'Ombra. The exhibition of 80 works, on loan from the world's principal art museums and galleries, commences with the 18th century classicism of Robert and Vernet and the realism of Courbet and Corot before going on to explore the works of Impressionists such as Cezanne, Monet and Renoir and the revolutionary visions of Van Gough, Munch, Matisse, Braque and Bonnard.
Before Vernet and Robert arrived on the scene, the Mediterranean had been almost exclusively associated with classic antiquity and it was in this context that it was represented. The desire to depict the sea in a very different way was shared by a great number of 19th century artists. In the North, the Atlantic ocean inspired Friedrich's oneiric visions and Turner's tumultuous sea storms whilst, in the South, the coasts of the Mediterranean, and in particular those of France, attracted painters whose use of light and color would have a lasting impact on the history of art.
Genoa Museum Card
Explore this Italian beauty with ease.
Get your tickets now!

From December 9th 2010 to May 18th 2011, Palazzo Ducale will host the second edition of "Mediterranea. Voci tra le sponde", during which artists, writers and musicians from various parts of the Mediterranean, including eminent writers such as Orphan Pamuk and David Grossman, will meet to compare culture and cultures, identity and differences in the modern day Mediterranean.

"Mediterraneo fantastico. Mediterraneo da Museo", is another of the exhibitions included in the Genoa based Biennale, and will be on display in the city's Modern Art Gallery until May 1st 2011. The exhibition, which features works from the Wolfson and Frugone collections, accompanies visitors on a pictorial voyage, observing the seascapes interpreted by 19th and 20th century international artists such as Ippolito Caffi, Richard Miller, Aligi Sassu and Zao Wo Ki.
Mediterranean. From Courbet to Monet and Matisse
Palazzo Ducale Appartamento del Doge
Piazza Matteotti, 9
Genova
www.palazzoducale.genova.it