Milano Marittima & Cervia
There's more to Romagna than sun, sea and sand...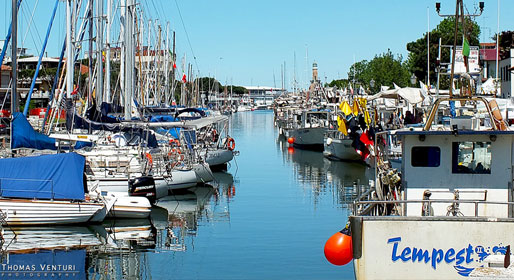 When I first moved to Romagna, my mind was still filled with the memories of the holidays I had spent here as a child - carefree holidays filled with sun, sea and sand.
I soon realized that Romagna was much more too: a land of great wines, excellent olive oils, of fabulous nature reserves and, of course, the legendary piadina: as thin as a wafer in Rimini and as thick as your thumb in Ravenna.
When you live in such an amazing place, you can't keep it to yourself: rather you find yourself wanting to share it with everybody! I moved to Romagna from my birth town in Emilia many years ago. Romagna is now my home, my family, my land.

Maritime Milan
Travelling on a budget? No problem! To best appreciate the magic of Milano Marittima, all you need is a bike.
Pedal through the parts of the town where the streets are lined with elegant and eccentric Liberty style buildings, symbols of Milano Marittima's early 20th century prosperity and expansion. My favorite is Villa Palanti, in Viale Toti, and the onetime residence of the painter Giuseppe Palanti, founding father of Milano Marittima.
Run out of pedal power? When I want to relax and feel regenerated there's only one place that will do and that's my pine wood: a walk amidst the centuries old pine trees is the best medicine for mind, body and spirit.

It's hard to imagine that it was from here that the British Royal Air Force used to take off during the 2nd World War...

City of salt and gardens
From Milano Marittima, we head to Cervia, but where's the best place to begin our visit? I always start with the spectacular salt-flats, where the city's white gold is mined.
The tradition of salt-making in Cervia is so old and so deeply rooted that nobody actually knows when it first began! Give salt as a gift and bring good fortune to a friend.
Want to record your visit on film? Take a few pictures of the salt marshes as the sun sets, before heading into the historic center and the area around Piazza Garibaldi: there's a potential picture postcard on every corner of every street.

If you liked Milano Marittima by day, you're going to love Cervia by night! After dark, walk along the banks of the canal port, lined with all sorts of little bars and restaurants, to reach the Salt Museum at the foot of the Torre San Michele

The best time to visit Cervia and Milano Marittima?
If you can only come once, then make sure you come in May. This is when Cervia Città Giardino, the largest outdoor flower and plant show in Italy, is held. For the occasion, all the city's roundabouts are transformed into colorful miniature towns, built entirely out of flowers.
Another important event held in May, the Sposalizio del Mare, has been celebrated here since 1445 and features the historic reenactment of the symbolic marriage between Cervia and the sea.

Towards the end of May and throughout the month of June, great flocks of flamingoes descend on Cervia's salt marshes. The clouds of pink birds are especially spectacular at sunset - don't forget your camera!
Where to eat and drink
Typical cuisine of Romagna: Trattoria Cà Rossi da Topo in Savio and Casa delle Aie.
Fish: La Pantoflà del Circolo dei Pescatori in Cervia.
Piadina: Piadineria della Piazza Pisacane in Cervia and Piadineria del Canalino in Milano Marittima.
Ice cream: Gelateria Ottocento in Milano Marittima.
Pre-dinner drinks: Bar Pic Nic in Cervia, V.le Roma
Our Insider is
Could you be our next Insider? Share your love of Italy by contributing to ItalyTraveller! See how!