Friuli in a glass
Wine, cherries and the historic cellars of Collio.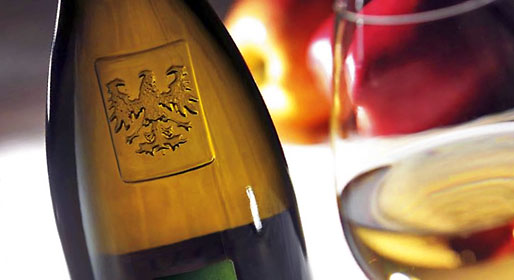 Starting with the composition of its terrain, Friuli is a region perfect for grape-growing.
The lower plains of Collio, the area where many of Italy's finest white wines are made, were once entirely submerged beneath the sea. Over the centuries, the rising seabed and the accumulation of sand and debris resulted in the formation of a soil rich in marl and sandstone, and thus the ideal habitat for the cultivation of vines.
Wine and cherries
Today, the green and sunny hillside of Collio, extending west of Gorizia all the way along the Slovenian border, is famous for the production of Pinot Grigio, Tocai Friulano, Ribolla Gialla, and Collio Bianco.
Established approximately 40 years ago, Collio's "wine and cherry road" was the very first Italian wine road

The road snakes its way among the vineyards, passing through the little towns of San Floriano, Capriva del Friuli, Cormons and Dolegna del Collio.
Casanova, Capriva and the Riserva del Conte
One of the most impressive historic cellars on route is that of Capriva, located in the Castle of Spessa, an imposing 13th century fortress where Giacomo Casanova stayed in 1773.
In the castle, which was extensively restored in the 19th century, wines similar to those much praised by Casanova, are still produced.The castle's medieval cellars house an impressive selection of wonderfully fresh and elegant white wines, rich reds, and the excellent "Riserva del Conte" grappa.
A taste of France, in Friuli
Whilst at Capriva, wine lovers should make sure they visit Villa Russiz, the late 19th century residence of Count Teodoro de La Tour.
The count identified the sun-drenched site as the perfect place in which to pursue his passion for viticulture, and soon set about employing the innovative new wine making techniques being developed in his native France at the time.
Now managed by the award winning oenologist Gianni Menotti, Villa Russiz continues to produce DOC wines of the highest quality.
Global vineyard
San Floriano, on the Italian-Slovenian border, is home to Patrizia Felluga's Zuani Cellars, responsible for a number of the region's best wines.
In addition to paying a visit to the winery, travelers should stop off at the Osteria Luka, to taste the delicious local cuisine, the result of an enticing combination of Friulian, Slovenian and Austrian culinary traditions

Located in the ancient walled town of Cormons, the Cantina Produttori is responsible for an intriguing project: the Vineyard of the World.
Back in 1983, the company started sourcing vines from the five continents, collecting a total of almost 600 types of grapes with which the "Wine of Peace" was created: a tangible symbol of universal fraternity which, each year, is sent to international heads of state.