Design lives here
The best Italian design at the best prices? Head to Milan and... Brianza!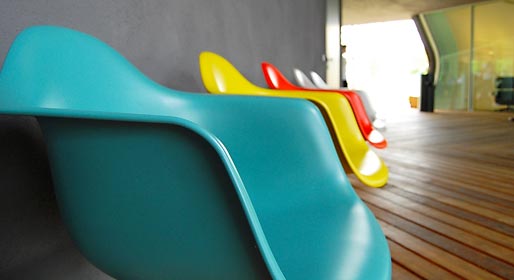 Furnishing your home is not just a necessity - it's a form of art! Especially in and around Milan, Italy's fashion capital.
Want design but don't want to pay an arm and a leg for it? This list of Lombardy's interior decoration stores, in which great design is matched by great prices, is tailor-made, just for you!
Milan, design in the city
Believe it or not, you don't have to go beyond the city walls to bag a bargain. These days, you can get yourself a designer deal slap bang in the center of Milan! Simply head to the "Zona Tortona" and Emporio 31, a megastore which stocks over 70 prestigious brands (Agape, Pallucco, DoimoDesign, etc), including discounted articles previously used in photographic services and shop window displays. You'll easily spend hours here, between the furniture, lighting and houseware departments.
Emporio 31 - via Tortona 31 interno 10 Milan - Tel. +39 02 4222577

Contemporary or vintage: DOC deals in Milan
Not exactly what you'd call an outlet, rather a larger and less expensive version of Milan's High Tech (see ItalyTraveller's article Fashion Passion), the 11,000sqm Cargo occupies a building which started life as an Ovaltine factory.
Ethnic, traditional or contemporary furniture, candles, books, rugs and even tropical plants: you'll find everything you might possibly want to put in your house at Cargo. If all this shopping leaves you gasping, pop into the restaurant- cafeteria or tea room for a refreshing drink or quick bite to eat.
Cargo - via Meucci 39 Milan - Tel. +39 02 2722131 (also open on Sunday)

Another DOC address is Blitz Bovisa, located in a rationalist style edifice complete with amazing helicoidal stairway. Here, company representatives and members of the public meet to buy and sell items of vintage and discontinued design. If you're lucky, you might well come across legendary labels like Cassina or Cappellini.
Blitz Bovisa - via Cosenz 44/4 Milan - Tel: +39 02 3760990

Colorful, ironic, creative. Kartell is a favorite among design devotees. The company's head quarters and the outlet in which you can pick up discontinued articles and pieces used in photographic services are located just outside Milan, in Noviglio. Three times a year, special cut-price sales are organized. The time to get the best deal? Go at the end of April, straight after the Milan Furniture Fair.
Kartell - via delle Industrie 1 Noviglio (MI) - Tel: +39 02 90012263

Big names with small prices, in Brianza
Brianza is the undisputed realm of Italy's furniture manufacturers, home to many of the historic names motoring the Made in Italy machine. Pop into the area's designer outlets and you can expect to find sofas, armchairs, beds and wardrobes and textiles at surprisingly low prices.
The Famar Interior Design outlet brings together products by Flou, Poliform, Saporiti and Flexform.
Where the discounts are guaranteed

Famar Interior Design via Nazario Sauro 36 Cassago Brianza (LC)
Outlet Cappellini via Benedetto Croce 3 Carugo (CO) Tel: +39 031 759111
Outlet Tisettanta Via Tofane 37 Giussano (MB)

You've bought your bed, now make it!
You've purchased your designer dining room, your state-of-the-art sofa and to-die-for bed, now you need to find table and bed linen to match! You'll find just what you're looking for in any of these three outlets, all of which sell cut-rate "seconds", brand new articles with a slight flaw which, however microscopic, result in the price rocketing...downwards!
Spaccio Zucchi Bassetti - via per Ossona 22 Casorezzo (MI) - Tel: +39 02-90255503
Outlet Bellora - Via Cesare Cantù 11 Fagnano Olona (VA) Tel: +39 0331 619641