Conero Red
The cellars on the Wine road of Rosso Conero.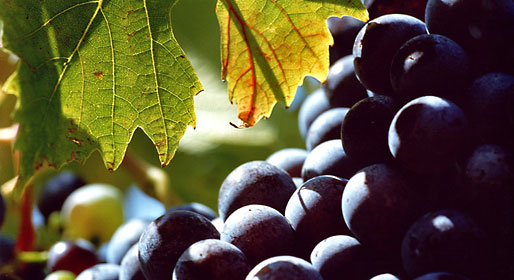 As visitors travelling along the coast of Italy's Marche region approach Ancona, they are greeted by the quite unexpected sight of a mountain which seems to have burst its way through the earth's crust only to hurl itself in to the Adriatic sea. This is the Conero: a great chunk of the Italian Apennines standing knee -deep in the water and wrapped in a cloak of holm oak, juniper, strawberry tree, and, most importantly, grape vines. With its limestone soil, caressed by a constant sea breeze, its dry summers and mild winters, the Conero provides ideal grape growing terrain. In 1987, this area was declared a protected area and the Regional Park of Conero was founded: a park which today encourages environmentally friendly agricultural practices, the reintroduction of indigenous varieties, and the adoption of biodynamic criteria.
Although the Etruscans started cultivating grapes on the hills South of Ancona thousands of years ago, it was only towards the close of the 18th century, with the introduction of vines from the Tuscan town of Montepulciano, that the ancestor of today's Rosso Conero DOC, an elegant wine with scents of cherry and other red fruits, was born. In 1997, the "Wine Road of Rosso Conero" was created: a panoramic coastal route rich in eno-gastronomic itineraries.
From Ancona, passing by the pretty fishing villages of Sirolo and Portonovo, the Wine Road of Rosso Conero leads visitors past any number of excellent cellars, some of which have been successful family businesses for generations, famous for the wonderfully warm welcome and excellent wines offered to visitors. As is the case of the Azienda Agricola Conte Leopardi Dittajuti di Numana or the Casa Vinicola Garofoli, founded in Loreto towards the end of the 19th century and now considered the Marche's most prestigious wine producer.
Antica Casa vinicola Garofoli
Via Arno, 9
Loreto (AN)
Tel. +39 071.7820162
www.garofoli.eu
Azienda Agricola Conte Leopardi Dittajuti
Via Marina II, 26
Numana (AN)
Tel. +39 071 7390116
www.leopardiwines.com