Ready for an (Italian) Adventure?
If you need a little more than art, history, and food to get your heart pumping, Italy also offers a number of adventure sports.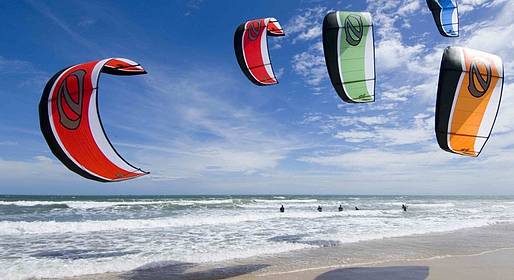 Couch potatoes can stop reading now. This post is not for you. The same applies if you suffer from vertigo, a weak heart, or a general penchant for safe armchairs and quiet pastimes.
What follows is, at best, slightly scary, and, at worst, downright dangerous. In other words, exactly the extreme adventure sports that adrenaline junkies love!
Volo del Angelo - Castelmezzano
It's called the Flight of the Angel, but there's nothing Angelic about this 1550 meter Tyrolean traverse in the still largely undiscovered southern Italian region of Basilicata.
How does it work? It's simple: harnessed and helmeted, you'll be attached to the world's fastest zip wire, given an encouraging slap on the back, one mighty push and...vroom! Off you go, soaring through the sky, flying over the spectacular rocky landscape stretching between the mountain top towns of Castelmezzano and Pietrapertosa.
Don't say I didn't warn you: there are moments during the flight that you'll be travelling almost 900 meters above ground level, at a speed of up to 120 kilometers an hour!
Hang Gliding - Norma
If the Flight of the Angel isn't enough to get your heart pounding and the blood racing through your veins, head up into the mountains of Latina, the peaks of which provide the perfect launch pads for hang and paragliders.
There are 3 main sites for launching: Roccasecca dei Volsci, Sperlonga, and Norma. Norma is by far the most popular, and the town even has a paragliding school offering courses designed for students of every level, including those who are completely new to the sport.
Where to stay: after a day spent gliding over the mountains of Latina, crash out at Itri's Akasamia Bed and Breakfast, between the Aurunci mountains and the sea.
Bungee Jumping - Altopiano di Asiago
Let's face it: when it comes to bungee jumping, if the rope's going to break, whether it's a miserly 10 or a whopping 1000 meters long, you're going to meet your maker. Which means, if you decide to hurl yourself head-first off a bridge tied to a piece of elastic, you may as well go the whole hog - and choose the highest bridge available.
In Italy, it's the Valgadena bridge in the mountains of Asiago (Veneto). Constructed to bypass a narrow road, which was subject to continuous landslides and showers of falling boulders, the viaduct towers 175 meters above ground level.
Want to have a go? Jumps are scheduled every other Sunday from March to November, from 09:00 am until the sun sets.
Time for bed? A country school turned into a charming B&B, Lusiana's Locanda La Scuola is the first theme-hotel on the high plain of Asiago
High Diving - Furore
A bit like bunjee-jumping (only without the rope!), high diving is the ultimate in extreme sports. In Italy the best-known locations for high diving are Lake Garda and '''Furore''', on the '''Amalfi Coast'''.
For the last 27 years, each July Furore's Mediterranean High Diving Championship Cup sees dare-devil divers from all four corners of the world catapult themselves into the sea from the 28 meter high bridge which spans the mouth of Furore's narrow estuary.
Even if you're not quite ready to have a go yourself, if you're visiting the Amalfi Coast when the competition is being held, don't miss it - this is one of the most spectacular event you'll ever see.
A night near Furore? Perched on the cliffs of Conca dei Marini, halfway between Positano and Amalfi, boutique hotel Conca Azzurra is only a short car or boat ride away!
Kite Surfing - Marsala
Compared with bungee-jumping and high diving, kite surfing might seem pretty tame - but don't dare say as much to a Sicilian, especially if he or she happens to come from Marsala, the seaside city famous for its fortified wine and, you guessed it, kite surfing!
Each summer Marsala's Lo Stagnone lagoon provides the water-filled stadium for the KiteSurf World Cup Freestyle Competition - one of the best attended sporting events in the whole of Sicily.
As any of the thousands of surfers who descend on Marsala each year will be able to tell you, the city's geographical position, directly opposite the Egadi islands on the windy west coast of Sicily, ensures the perfect climatic conditions for this increasingly popular sport, which combines man and wind power to zoom across the surface of the water. In 2017, Alexandre Caizergues, the fastest kite surfer to date, reached a record speed of 57.97 knots.
Our Insider is
Could you be our next Insider? Share your love of Italy by contributing to ItalyTraveller! See how!
Main destinations