Valentine's Day? Valentine's Weekend!
A Mediterranean island, a medieval castle, a country spa: great ideas for the most romantic Valentine's Day ever!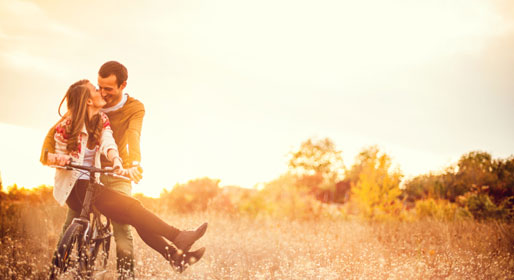 Don't listen to those sour-faces who want to convince you that Valentine's Day is nothing but a commercial ploy invented to make gullible fools spend their money on frivolous nonsense and insist that if a love is true then there's no need to celebrate it simply because it's February 14th.
Whilst we whole-heartedly agree that you should cherish and spoil your loved one all year round, we also believe that there's something truly special about that kiss, card, bunch of flowers or box of chocolates received on Valentine's Day.
Perhaps Valentine's Day is special because, falling as it does in the depths of winter, it brings a little sparkle to a time of year which would otherwise be decidedly dark and dreary. And this year, given that it falls on a Friday, Valentine's Day is going to bring more sparkle than ever - as well as the perfect excuse to whisk your loved one away for a romantic weekend escape!
A winter weekend on a Sicilian island
If you want to treat your special him or her to a Valentine's weekend he or she will definitely never forget, sail (or fly) to the Sicilian island of Pantelleria and the romantic Resort Acropoli, which lies within minutes of all of the island's beautiful beaches and the Mirror of Venus: a lake filled with piping hot thermal waters which has formed in the crater of an extinguished volcano.
Old world romance in Rivalta
Fancy snuggling up in a magnificent four poster bed, surrounded by priceless antiques and period artworks? Head to Emilia Romagna and the medieval hamlet of Rivalta and check-in to Torre di San Martino: a gorgeous period residence located in the shadow of the beautifully-conserved Castle where members of the British Royal Family often come to stay.
Love in the castle
If sleeping in the shadow of an ancient stronghold isn't romantic enough and you actually want to snuggle up inside the castle walls, then you're going to love Castello di Gargonza, the fortified hamlet between Siena and Arezzo where Dante Alighieri was exiled and which is now one of the most amazing period residences in Tuscany.
For a romantic Valentine's Day dinner, book a table at the castle's La Torre di Gargonza restaurant, renowned for its delicious organic food and excellent Chianti DOCG wines.
In the country between the coasts
There's nothing quite as romantic as a weekend break in the country, especially when that country happens to be halfway between the beaches of Cilento and the Amalfi Coast. Villa Rizzo is the perfect choice for a wonderful winter escape just as the hotel's spa, with Turkish bath and maxi Jacuzzi, is the perfect place in which to indulge in hours of professional pampering... for two!
Main destinations