Torre di San Martino
(Historical Residences)
Gazzola
This hotel is no longer part of the
ItalyTraveller.com collection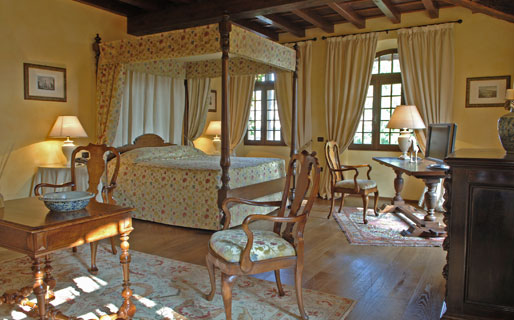 Torre di San Martino
Località Borgo di Rivalta, 3

-

29010

Gazzola

(Piacenza)
Tel.

+39 0523 972002
Historic holidays in the castle hamlet of Rivalta
Three reasons why you'll love it here

Medieval magic in the Castle hamlet of Rivalta
Four poster beds and breakfast in the loft: ready for romance?
Visit the castle and relish the specialties typical of Piacenza
Soft lighting, antique furnishings and the magic of a period residence dating back to the 11th century. Torre di San Martino, in the medieval town of Rivalta, is almost as beautiful as the nearby castle owned by the Counts Zanardi Landi where the British Royal Family regularly come to stay.
Nights you'll never forget, in the tower
Steeped in history, oozing with old world charm, Torre di San Martino's Junior suites and deluxe bedrooms feature magnificent four poster beds, luxurious drapes and exposed timber ceilings.
Whilst, at first glance, time seems to have stood still for centuries in this intimate little hotel, in reality all rooms are equipped with the latest in modern conveniences, including spacious ensuite bathrooms with shower or hydromassage bath tub.
Days start in style at Torre di San Martino, with a breakfast of local gastronomic goodies served in the loft

Days you'll always remember, in the village
A gorgeous historic hideaway, Torre San Martino is the perfect choice for a relaxing vacation spent experiencing life in Rivalta, famous for its finely-restored palazzi, excellent little restaurants and, of course, it's magnificent 11th century castle - one of the few strongholds in Europe to have maintained its original medieval structure.
Had enough history for the day? Make your way to the nearby Croara Golf Club for a swim or a game of tennis