Taste laboratory
Cooking lessons, celebrity chefs and theater in Puglia.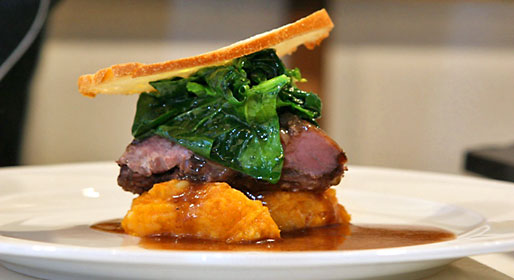 A cooking school, catering service, culinary theater, bookshop and emporium: this is Anice Verde, the brainchild of the entrepreneur Pasquale Procacci Leone and his wife, Letizia. After years spent attending some of the best cooking and restaurant management schools in Italy, including the Gambero Rosso's Città del Gusto in Rome, Pasquale decided to transform his passion for food into a full-blown culinary enterprise.
Occupying a typical Puglian farmhouse in the countryside of Corato (province of Bari), Anice Verde is a "taste laboratory" offering cooking lessons for both absolute beginners and qualified professionals. A range of courses is available including those teaching basic cooking techniques, theme menus, and new culinary trends. During lessons, every phase of food preparation is filmed and projected on screens, thus allowing students to have a close up vision of proceedings, from any workstation.
One of the Anice Verde's strong points is the high profile of the teachers, with lessons being taught by the likes of Massimiliano Mariola and Igles Corelli (who regularly appear on the Gambero Rosso Channel) and famous chefs such as Fabio Pisani, from the award winning Aimo e Nadia restaurant.
Another reason for this innovative center's success is its "kitchen theater". Shows see great names from the Italian and international cooking scene intent on preparing elaborate dinners to the delight of 80-90 spectators. Whilst the participating chef is busy cooking, in Anice Verde's kitchen the dishes which will be served at the end of the performance are being prepared. During the evening, guests have the opportunity to taste the wines which leading sommeliers have chosen to accompany the meal. Table decoration is always in complete harmony with the theme of the dinner.
Anice Verde also has a culinary bookshop, with all the latest gastronomic publications, and an emporium stocking items specially selected for those with an authentic passion for good food and wine, cooking, and the kitchen.
Anice Verde
Via Salaria 3
70033 Corato (Bari)
tel. +39 080 8725679
Cell. +39 340 2565409
www.aniceverde.com