Olive all'ascolana & Co
Tasty treats made in (and around) Ascoli Piceno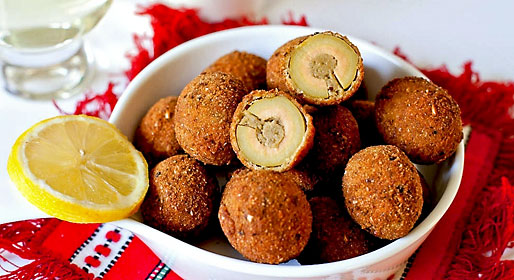 A gastronomic gold mine. If Marche is now a certified paradise for lovers of good food and wine, its largely thanks to the province of Ascoli Piceno, where great part of the region's delicacies originated.
Olive all'ascolana: starting in style
The Romans loved the olives from Piceno. In Medieval times, the Olivetani monks invented a special brine in which to best conserve them. No ordinary variety of olive, the Tenera Ascolana is now the undisputed symbol of the province of Ascoli Piceno.
In the 18th century, an anonymous cook had the idea of stuffing the generously sized olives with a mixture of meats and cheese and then frying them in oil. Thus, the oliva ripiena all'ascolana was born. In 2005, the delicacy was awarded DOP status. A fantastic antipasto, when served together with fried artichokes, zucchini and bite-size pieces of lamb, Ascoli Piceno's stuffed olives are a great main course too.
Maccheroncini di Campofilone: tempting the tastebuds since 1500
You'll have a hard time finding a menu in Marche which doesn't feature fresh handmade pasta. The area around Ascoli is famous for its "maccheroncini di Campofilone": little nests of pasta named after the town which started producing them (using a staggering 10 eggs to every kilo of flour) back in the 16th century.
Traditionally, the pasta is served with a rich ragù made with various types of meat and chicken giblets, and a sprinkling of percorino cheese. Other popular sauces include those made with mushroom and, on the coast, fish and seafood.
Where to buy maccheroncini:

La Campofilone di Enzo Rossi - località Ficiara 27 - Campofilone
Pastificio Spinosi - via XXV Aprile - Campofilone
If you've got a passion for pasta, you'll want to try the region's "vincisgrassi" too: Marche's deliciously meaty lasagna.
From ciauscolo to mazza fegato: cold cuts made in Marche
Any guide to the gastronomic history of Marche will dedicate at least a chapter, if not two, to the region's salumi, all of which have truly ancient origins. The 'ciauscolo' is a soft sausage, usually served spread on thick chunks of country-style bread. Eaten as a starter, Marche's 'lonza' and 'lonzino' are ideally accompanied by a glass of Rosso Piceno wine. For connoisseurs only, the curiously named 'mazzafegato' (liver killer) or 'salsiccia matta' (crazy sausage) has a strong and slightly spicy taste.
You can purchase all of Marche's finest cold meats here:

Salumificio Passamonti - via Leopardi 12 - Monte Vidon Combatte ( Fermo)
Gastronomic goodies in the city of a 100 towers
It's hard to resist the charm of Piazza Arrigo which, with its baptistery built on the site of an ancient Roman temple, archeological museum, and medieval town hall, perfectly sums up the history of the Ascoli Piceno. To learn about the city's culinary heritage at a glance, head to Gastronomia Migliori: a delicatessen packed to the rafters with the best of the region's cheese, charcuterie, oil and, of course, olives. Whilst you're here, pop in to the Liberty style Caffè Meletti in nearby Piazza del Popolo: the place to be and be seen sipping a glass of Anisetta, Ascoli Piceno's famous aniseed liqueur.
San Benedetto del Tronto's brodetto di pesce: a taste of the Adriatic
Whilst many of the region's cities lie inland, wherever you are in Marche, the sea is never that far away. From Ascoli Piceno you can quickly reach San Benedetto del Tronto, where to experience what is, arguably, the finest fish soup of all those made on Italy's Adriatic coast. What makes San Benedetto del Tronto's 'brodetto di pesce' unique are the peppers, green tomatoes and vinegar (rather than wine) used to aromatize the incredibly fresh Mediterranean fish and sea food used.
This 16th century customs station offers an enchanting venue in which to taste the town's brodetto di pesce:

Caserma Guelfa - via Caserma Guelfa 5 San Benedetto del Tronto
Sweet treats in disguise: lonzino di fichi
The cylindrical shaped 'lonzino di fichi' might look like a salame, but this concoction of dried figs, almonds, walnuts, aniseed, Sapa and cooked must is anything but! Order fig lonzino in a restaurant and it may well be served together with a selection of local cheeses and a glass of dessert wine.
Ascoli in a glass: Rosso Piceno, Falerio and Offida wines
Marche produces some of Italy's most interesting wines, wines which, not surprisingly, provide the perfect accompaniment to all the region's best-loved culinary classics. The Rosso Piceno DOC is the ideal partner for Marche's flavorsome fish or vegetable soups. The dry white Falerio dei Colli Ascolani DOC is an excellent aperitif wine. A bowl of vincigrassi or maccheroncini pasta are best washed down with a glass or two of the full bodied Offida Rosso DOC. Whilst nibbling your stuffed olives, have a sip of sparkling Offida Pecorino DOC - and experience a marriage made in gastronomic heaven!
Where to eat and sleep in Ascoli Piceno

A romantic rural retreat, Villa Cicchi is located in the peaceful countryside just outside Ascoli Piceno. Rooms decorated with original 19th century furnishings and a restaurant serving traditional local cuisine prepared with the ingredients grown on the family's organic farm make this little hotel a real "must" in Marche.
Villa Cicchi