Manta's magnum opus
The secrets of Manta Castle's stunning Late Gothic fresco.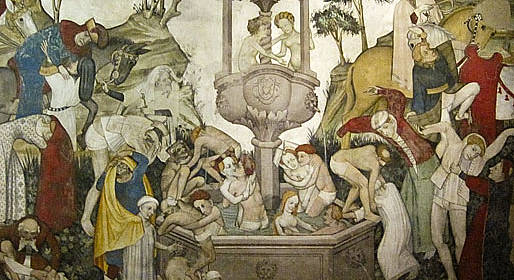 Relatively few travelers exploring the hills of Piedmont near Saluzzo make their way to the tiny village of Manta and the castle with which it shares its name.
As yet to be included in the classic tourist itineraries, Manta Castle is one of the least known of the region's many fortified edifices, perhaps because, spectacular panorama aside, it lacks the towers, moats and crenulated parapets of other more famous castles.
And yet this apparently plain and, dare we say, uninspiring, building contains a number of surprises which art lovers in particular will be loath to miss.
Manta Castle
Explore a grand Italian castle adorned with stunning frescoes.
Get your tickets now!

The Marquis and the Master
The castle dates back to the 12th century and, for over 400 years, was owned by the powerful Saluzzo dynasty. In the early 15th century, Valerano Saluzzo, the illegitimate son of Tommaso III, Marquis of Saluzzo, transformed the fortified edifice into an elegant aristocratic residence.
It was in this period that the mysterious unnamed painter, known as the "Master of Manta Castle", was employed to decorate the walls of the large Baronial Hall. The resulting "Cycle of Heroes and Heroines" is widely considered to be one of the finest masterpieces of Late Gothic secular art.
Heroes and Heroines
The cycle depicts a group of nine male and nine female figures from the Classic, Hebrew and Christian traditions, all dressed in the elegant fashions popular with Europe's 15th century titled aristocracy.
Although apparently depicting the virtues of heroism, visitors looking at the fresco with particular attention, are likely to be struck by the sense of frivolity which pervades the scene

Fountain of Youth
On the wall with the window, the artist depicted his "Fountain of Youth", a favorite subject of the chivalric poetry in vogue at the time.
Here the artist abandons the stylized elegance of the previous fresco, painting caricatures of nobles, monks and peasants, gathered around the fountain and immersing themselves in the waters.
The miraculous water transforms the bathers into beautiful young men and women who can be seen running towards the wood which is depicted on the wall behind the fireplace.
Manta Castle is one of the many artistic treasures in Italy protected by the FAI. In addition to the Baronial Hall, visitors should make sure they see the 16th century "Grotesque Hall" and the Church of Santa Maria, next to the castle, which contains frescoes depicting the Life of Christ, also attributed to the Master of Manta Castle

Manta Castle
Manta (Cuneo)
Tel: +39 0175 87822
www.fondoambiente.it
Opening hours
March to September: Tuesday to Sunday from 10.00hrs to 18.00hrs
October, November and last two weeks of February: Tuesday to Sunday from 10.00hrs to 17.00hrs