Lidia Alciati
The gastronomic inheritance of Guido Alciati, in Langhe.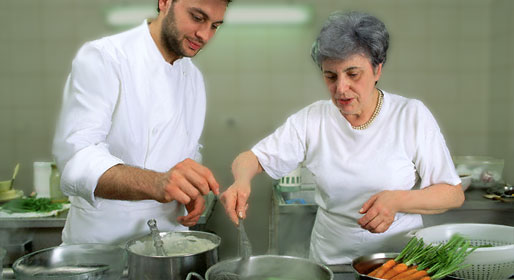 In the countryside of Piedmont, amidst the rolling hills of Langhe, in a land where some of Italy's greatest wines are produced and highly prized white truffles sprout, as if by magic, from the ground, lies a beautifully restored 17th century monastery and, in its cellars, a true food lovers' paradise.
Behind every great chef....
For gastronomes, the 33 room Relais San Maurizo of Santo Stefano Belbo is, above all, home to a restaurant which has quickly earned itself a place in the history of Piedmont's cuisine, just like the late Guido Alciati, one of Italy's greatest chefs and after whom the elegant eatery has been named.
After the death of Alciati, his wife Lidia and son Andrea decided to transfer the family's award winning Guido da Costigliole restaurant from Asti to the Relais San Maurizio, a place where the philosophy of the legendary chef could live on

Piedmont's Michelin starred monastery
The cellars of the ex monastery provide an enchanting venue for this restaurant which, shortly after its inauguration, has already been awarded its 2nd Michelin Star.
Here, typical local ingredients, such as Asti's quadrato pepper, sausage from Bra, and nocciola gentile hazelnuts, are used to great effect.
Dishes are clearly rooted in Piedmont's age old culinary tradition, and made all the more delicious by the occasional innovative twist

After having worked for almost 50 years alongside her husband, Lidia continues to delight diners with her agnolotti del plin, exquisite pasta parcels filled with a mixture of veal, rabbit and vegetables, and lamb glazed with a divine honey and hazelnut dressing.
Truffles and wine
From September through to December, when the Langhe's legendary edible fungi is in season, truffles take center stage on the menus presented to guests at Giudo da Costigliole.
The cellar houses some 2.500 bottles, listed in 3 wine lists: one dedicated to Piedmont, one to France, and the other to wines from the rest of the world.
Restaurant Guido da Costigliole
Relais San Maurizio
Località San Maurizio 39
12158 Santo Stefano Belbo (CN)
Tel +39 0141 841900
www.rlaissanmaurizio.it