Le Langhe Village Life
Four of Le Langhe's Most Charming Villages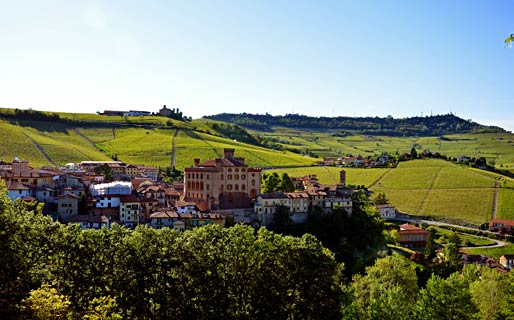 The hills and valleys of Le Langhe in Piedmont are dotted with ancient towns and villages, each more beautiful than the last. For the first-time visitor just deciding where to begin can be a little overwhelming. So, here's a brief guide to four places that really shouldn't be missed...
Barolo
Best for: wine aficionados
For anyone who loves wine, a trip to the town of Barolo is something of a pilgrimage. Surrounded by line after perfect line after Nebbiolo vines and watched over by the magnificent Castello di Barolo, it is the ideal starting point for any trip to the Langhe.
Wander down through the town's quiet, cobbled streets until you reach the castle. Formerly the country home of the Falletti family, it was painstakingly restored in the 1970s and now houses the wonderful Wine Museum of Barolo, or WiMu, and the equally wonderful Enoteca Regionale di Barolo, where you can taste some of the finest Barolos from each of the 11 local towns in which it is produced. It currently represents 195 producers, which should be enough to keep even the keenest of wine tasters happy!
For something a bit different, head around the corner to the rather unique Museo dei Cavatappi (Museum of Corkscrews), which is considerably more interesting than it sounds!
(Photo on the right by Rachel Black via Flickr)
Neive
Best for: all-round beauty
Perched high above the Tanaro river, Neive was recently voted one of the most beautiful old towns in Italy, and it's easy to see why... if you can drag yourself away from the jaw-dropping views which surround the town in all directions, you'll see a historical centre that dates back to 1000 AD, filled with elegant palazzi, grand churches and a magnificent medieval clocktower.
Take a stroll around the ancient centre before settling down for lunch in the fantastically-named I Love Ba, an enoteca-osteria with a wine list to die for and food to match.
After lunch, head to Cantina del Glicine, a small, traditional cantina with a big surprise... its cellars. Dating back almost 500 years, they stretch, maze-like, under the entire grounds of the building, every available alcove filled with oak and chestnut barrels. You can quite literally smell and feel the history. Neive is one of just three towns able to produce Barbaresco, so after exploring the cellars, head upstairs to taste a few of Glicine's award-winning tipples.
La Morra
Best for: views and walks
First things first, La Morra boasts an incredible view. Head to Piazza Castello and prepare to be amazed as the whole of the Langhe spreads out beneath you. Once you've filled your camera's memory card, wander down the hill towards the Cantina Comunale, where you can learn about and, of course, many of the wines produced in the town's 750 hectares of vineyards.
If you're feeling energetic, the Cantina is also the starting point of a 14km walk which meanders through some of those vineyards, as well as passing two of the area's best-known landmarks; the brightly-coloured Cappella delle Brunate and the iconic Cedar of Lebanon, planted in 1856 as a sign of enduring love between two local newlyweds.
Cherasco
Best for: antiques, chocolate and snails
Okay, so strictly speaking Cherasco is in Roero, not the Langhe, but it's definitely worth the short trip across the Tanaro (the river that separates the two areas) to visit a medieval town described by Napoleon as "the most beautiful spot in Italy".
Besides its portico-covered streets and perfectly-restored buildings, Cherasco is known for three things: antiques, chocolates and snails.

The antiques come in the shape of a market usually held five times a year, always on a Sunday. Dealers from across Italy and France pack the streets, selling everything from smurfs to antique petrol pumps.
The chocolates are Baci di Cherasco. Made from dark chocolate and roasted Langhe hazelnuts, they are said to have been invented by Cherasco local Marco Barbero in the 1880s as a way of using up leftover nut fragments. Head to the historic Pasticceria Barbero to pick up a bag... or maybe two.
Finally, the snail... not something you would necessarily associate with Italy, but, having pioneered a new, more natural method of farming the little critters, which it has now exported around the world, Cherasco proudly proclaims itself the Italian snail capital. If you fancy trying them for yourself, head to La Lumaca or Osteria la Torre where they are served in a soup, with pasta or cooked in a wide variety of sauces.
Our Insider is
Could you be our next Insider? Share your love of Italy by contributing to ItalyTraveller! See how!