Chefs by chance
From novice to chef at Genoa's best-ever cooking school.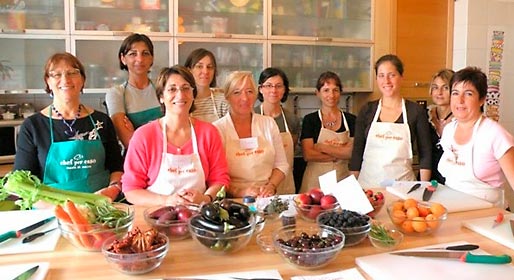 In 2005 two feisty ladies armed with bags of entrepreneurial spirit and a passion for food, opened a cooking school in the heart of Genoa. The Chef per Caso (chef by chance) cooking school has been providing a rich calendar of courses for both absolute beginners and expert chefs ever since. From the very start, Marta and Donatella wanted to give the school a cosmopolitan feel, reflecting the nature of Ligurian cuisine which, historically, has always been open to 'contamination' (no doubt the consequence of the region's great sea faring and merchant traditions). Thus they enlisted the services of experts in Indian and Middle Eastern cuisine as well as those of well-known Italian chefs.
The Chef per Caso cooking school occupies a large, light filled space with both preparation zone and cooking area, where up to ten people can work simultaneously. Marta and Donatella decided to fit the kitchen with standard domestic cooking utensils, so that students would be able to easily reproduce what they have learnt during lessons, once they were back home. The school also has an area which functions as a tasting room, and a well-stocked library.
Marta and Donatella are firm believers in cooking's power to dramatically change people's lives (after all, they themselves gave up their respective professions to follow their culinary passion). Even those who have yet to successfully break their first egg will be converted during Chef per Caso's cleverly designed basic course. According to the level of difficulty, courses are made up of three, five or seven lessons. Special full-day courses, which include meetings with professional chefs and an introduction to life in a busy restaurant kitchen, are also available. Particular attention is given to regional dishes such as "focaccia di Recco", the highlight of the baking course, and to the preparation of typical fish dishes including baccalà, and specialties made using Liguria's herbs and vegetables, such as the "torta pasqualina" and "cima alla genovese", this latter is a highly prized second course of meat stuffed with mixed vegetables.
During the Chef per Caso courses, pupils discover regional dishes of great historical and cultural interest, such as Liguria's "corzetti". A type of pasta, the origins of which are believed to date back to the Renaissance, corzetti are disks of fresh pasta the form of which is made using wood cutters (still manufactured and available for purchase in stores such as Genoa's "La Botteghetta Magica" in Via della Maddalena). The cutters have two functions: to press a pattern onto the sheets of pasta and, at the same time, cut out the small disks. The city's noble families used to have their coat of arms pressed onto the corzetti and today, there are still a few Genoan wood carvers prepared to make personalized cutters, perhaps with the customer's initials. During lessons, pupils learn how to make the corzetti and the sauces with which they are most commonly served.
Not surprisingly, one of the most important recipes taught to students attending the regional cooking course is the legendary Pesto alla Genovese. A number of Chef per Caso's pupils have gone on to participate in the annual World Championship of Pesto Genovese al Mortaio, organized by the city's Palatafini association.
Chef per Caso cooking school
via Milano 148 rosso
Genoa
Tel: +39 010 2470359
www.chefpercaso.it