Excelsior Parco
(Small Boutique Hotels)
Capri
This hotel is no longer part of the
ItalyTraveller.com collection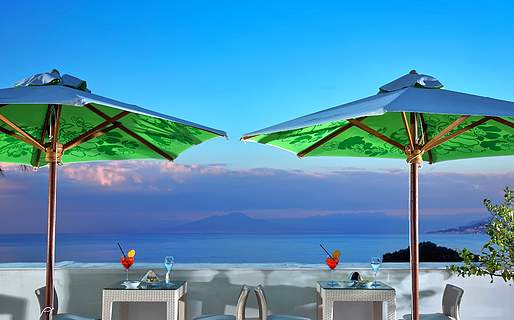 Excelsior Parco
Via Provinciale Marina Grande, 179

-

80073

Capri

(Napoli)
Tel.

+39 081 8379671
Fax

+39 081 8376973
Liberty style luxury... on the island of Capri!
Three reasons why you'll love it here

A Liberty style villa facing the Bay of Naples
The free shuttle service to and from the Piazzetta
The outdoor Jacuzzi with view of Vesuvius
A chauffeur driven car to accompany you to the hotel, the welcome drink of your choice on arrival, breakfast on your very own sea view terrace, free Wi-Fi in your room, and a complimentary shuttle service to the center of town....
....little treats guaranteed to make your vacation an unforgettable one and which holidaymakers heading to Capri can expect to find at the Excelsior Parco, a 4 star boutique hotel situated halfway between the port of Marina Grande and the Piazzetta, overlooking the Bay of Naples.
A history of hospitality
Dating back to the early 20th century, the elegant Liberty style villa initially served as buen retiro for the artists and intellectuals who traveled to Capri seeking not only inspiration but also refuge from the era's increasingly hostile totalitarian regimes. In 2006, the villa became the subject of an extensive restoration program finalized in its transformation into an intimate boutique hotel.
Sleep, drink and eat Capri
Excelsior Parco has just 11, Liberty style bedrooms, the majority of which have their own sea view terrace, on which guests are free to enjoy a leisurely breakfast, comprised of a delicious selection of organic products, or a candlelit dinner prepared by the hotel's restaurant service. Gluten free and low calorie dishes are available on request.
Book a room at Excelsior Parco and the hotel will reserve places for you on Capri's Lido Lo Smeraldo beach and provide a shuttle service to get you there and back - free of charge!

Panoramic pampering
Additional pampering is provided in the grounds of the hotel, where guests find two Jacuzzis, one in a secluded corner of the garden, another on the panoramic solarium terrace. Excelsior Parco's expert concierge organizes both all-time Capri classics, such as the visit to the Grotta Azzurra, and tailor-made activities, including lessons held by a local cook in the kitchen of her island home.