Taglienti's talent show
The edible exploits of Piedmont's greatest new culinary talent.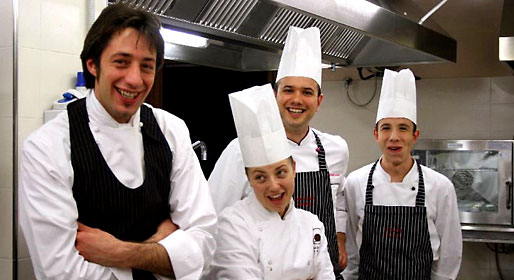 The history of Cuneo's Palazzo Lovera, a stunning edifice located right in the center of the town, dates back to the 1500's, when it was built as a residence for the Counts of Lovera di Maria.
Today, the beautifully conserved Palazzo has been transformed into an elegant hotel with two restaurants: the Lovera restaurant, serving typical Piedmont cuisine, and the Delle Antiche Contrade, a gourmet restaurant created in an old 17th century customs station, just a few meters from the main building.
From humble to haute
The Michelin-starred Delle Antiche Contrade is a well-established favorite amongst connoisseurs of fine food and wine and it is here that Luigi Taglienti, one of Italy's most promising young chefs, reigns supreme.
Taglienti's exquisite cuisine is created using the most modest of ingredients; such as offal, which, like Davide Oldani and Massimiliano Alamjo before him, the young chef uses to great effect

Impeccable technique and superior quality ingredients are all that is required to transform humble, largely ignored products into haute cuisine.
For Taglienti, offal provides a sphere in which to test his inventiveness and arouse the curiosity of customers; this is the case with his "Italian style Fois Gras" in which, no doubt to the horreur! of his French colleagues, he uses chicken and rabbit livers instead of the traditional goose liver.
Measured overindulgence
For his special Attimi Taglienti menu, entitled the measured overindulgence of a gourmand, the chef presents diners with a magnificent 9 course meal, which includes a spectacular version of Beef sweetbread, with cuttlefish ink, langoustine and lemon.
Taglienti has created a number of innovative new dishes using the Carnaroli Acquerello Riserva rice, another product typical of this part of Italy, including a fabulous Risotto with lemon and menthal oyster and a wickedly moresome Creamy cod cappuccino with clams and almond ice cream

Old traditions, new talent
For the traditionalists, there are dishes straight out of Piedmont's time-honored cookery books, such as veal tripe salad and Fassona beef Ravioli.
Taking his inspiration from the traditional cuisine of the area, be it the fish dishes of Liguria or the peasant cuisine of the countryside of Piedmont, Taglienti makes no secret of his desire to recreate the authentic aromas which, until recently, used to fill the region's domestic kitchens, and to conjure up those flavors which the mothers and grandmothers of Piedmont once produced on a daily basis.
Dinner with the chef
A meal at the restaurant's "tavolo di famiglia", is an experience not to be missed. The family table is situated in a secluded little dining room with view of the kitchen and the chef working over the stove of his induction oven.
From this privileged viewpoint, guests gain a unique insight in to the way Taglienti puts his personal culinary philosophy in to practice.
Ristorante Delle Antiche Contrade
Via Savigliano, 11
Cuneo
Tel. +39 0171 480488
Closed Sunday evening and all day Monday
www.antichecontrade.it
Hotel Palazzo Lovera
Via Roma 37
Cuneo
Tel. +39 0171 690420
www.palazzolovera.com