South Sardinian Coast
From Villasimius to the Island of Sant'Antioco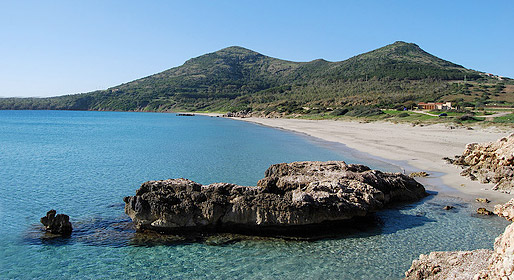 Our journey begins in Villasimius, seaside destination par excellence, home to a well-equipped tourist port and numerous hotels, created so as to accommodate the thousands of holiday makers who flock to the town's spectacular beaches each summer.
Protecting paradise
In 1999, the whole area, from Capo Boi to Punta Porceddus and including the Islands of Cavoli and Serpentera, was transformed in Protected Marine Area of Capo Carbonara.
The marine park can be visited aboard motorboats which operate daily excursions, including the time to swim in the crystal clear waters and explore the unique seabed.
Bay watching
The indented coastline leading towards Cagliari is a marvelous sequence of dramatically beautiful bays and inlets. Quartu S.Elena, just a few kilometers from the provincial capital, boasts a number of popular bathing resorts, including the legendary beach of Poetto.
Nature lovers should head to the Regional Park of Molentargius, one of Europe's most important wetlands and home to salt lakes which provide the natural habitat for a wealth of bird species, including pink flamingoes, cattle egrets, stilt-birds and sultan chickens.
Treasure hunting in Cagliari
Cagliari is a quietly fascinating city and unexpected tourist destination. The historic center is rich in important monuments, testifying to the city's past.
The Cittadella dei Musei museum complex houses Cagliari's National Picture Gallery, the National Archaeological Museum and the "Siamese" Museum S. Cardu. Palazzo Viceregio, once home to the Spanish and Savoy viceroys, is now seat of Sardinia's regional government. The city's Cathedral, dedicated to Santa Maria, dominates Piazza Carlo Alberto, framed by the 19th century Saint Remy Bastion.
Cagliari's Roman amphitheatre, dating back to the 2nd century A.D, provides the stunning venue for concerts and cultural events

Grapes, graves and a mining museum
An hour from Cagliari, on the promontory of Capo di Pula, lies the town of Nora, where the remains of a Phoenician settlement can be seen. Here the countryside is littered with grapevines, myrtle bushes and wild fennel, all of vital importance for the local economy (and gastronomy).
The economy of Carbonia, as its name indicates, has roots in the town's mining tradition. The Sebariu Coal Mining Museum is a recently inaugurated museum to be visited both above and underground. From the nearby Necropolis of Monte Sirai the lagoon of Sant'Antioco can be admired.
The island of Sant'Antioco is rich in precious archaeological findings dating back to the Phoenician age, the majority of which are conserved within the island's Ferruccio Barreca Archaeological Museum

Hotels in the area


0 ft
Santa Margherita di Pula
Useful links