Rosè of Salento
The Leone de Castris winery and the history of Puglian wine.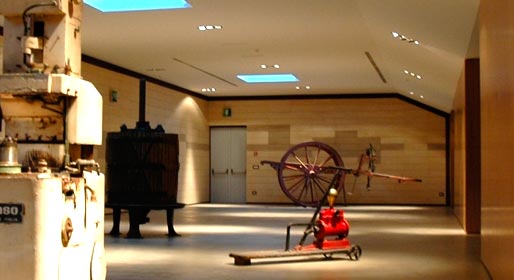 A historic wine cellar and a romantic tale of a family's love of wine, set amidst the hills of Salento. The Leone de Castris wine cellar was created back in 1665, when the nephew of the Spanish viceroy in Italy, Duke Oronzo Earl of Lemos, fell head-over-heels in love with Puglia and, in particular, with the countryside of Salice Salentino. Having immediately perceived the potential of the place, he sold his properties in Spain and, with the proceeds, purchased some 5000 hectares of land here.
In the 1920's, Piero and Lisetta Leone de Castris began to bottle the wine and in 1943 created their Five Roses: the first Italian rosè wine to be exported to the United States. How the wine was named is itself a legend. In Salice Salentino there is a district called "Cinque Rose", so called because for many years successive generations living here each had five children. At the end of the 2nd world war, an American General and supply officer for the allied forces, declared his interest in buying a large quantity of this rosè wine, with the condition that it be given an American name: the Five Roses. The tale of this wine, made with 90% Negroamaro and 10% Malvasia nera, is told in the "Novel to drink" book, offered as a gift to Five Roses fans.
A family adventure initiated 350 years ago, the Leone de Castris winery has remained rooted in the territory of Puglia and actively involved in the promotion of the region's enological and cultural identity. The company's Wine Museum is a 600sqm space dedicated to the history of wine and the winery in the form of documents, photos and agricultural instruments. Leone de Castris' wines are made from the indigenous Primitivo, Negroamaro, Verdeca, Malvasia Nera and Bianca, and Aleatico grapes, cultivated on lands which have belonged to the family for centuries. The desire to combine tradition with innovation has led to the recent creation of the "Five Roses Classic Method" sparkling wine, a brut rosè with a fresh bouquet and aromas of blueberry, redcurrant and rose petals, perfect as an aperitif or accompaniment for seafood.
The cellar is housed in a 17th century patrician palazzo in Salice Salentino, within kilometers of the splendid city of Lecce. Visits are available by reservation only and include the presentation of the entire production process, from the arrival of the grapes to vinification, a tour of the barrel cellar, and tastings of the company's finest wines, accompanied by local gastronomic specialties.
Cantina storica Leone de Castris
Via Senatore de Castris, 26
Salice Salentino (Lecce)
Tel: +39 0832 733608
www.leonedecastris.com