Relishing Ravello
Pino Lavarra and Palazzo Avino's Rossellini's Restaurant.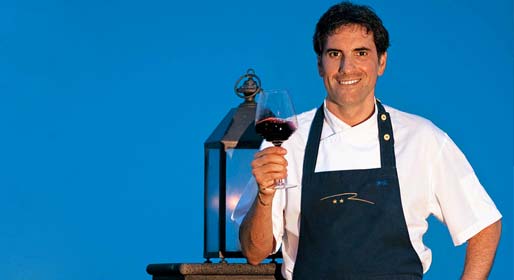 Ravello, the aristocratic charm of which has been enchanting visitors for centuries, provides the breathtakingly panoramic location for a number of the Amalfi Coast's most prestigious hotels, including the 2010 winner of Travel + Leisure's Best Hotel in Europe award, Palazzo Avino.
A much sought after honeymoon destination, this exclusive 5 star luxury hotel, housed in a historic villa perched on the cliff edge, is a gourmet paradise. The hotel's Rossellini's Restaurant boasts 2 Michelin stars in recognition of the elegant eatery's stunning location, impeccable service, and, most importantly, fabulous cuisine coming out of internationally trained chef Pino Lavarra's kitchen. Lavarra was born in Putignano, Puglia, and spent much of his childhood following his mother about in the kitchen of the school where she worked as cook. It was here that his passion for pots and pans and the wonderful things that could be created in them began. Following his graduation from Catering School and a number summer jobs in local restaurants and pizzerias, Lavarra began a long period working aboard, gaining invaluable experience in such prestigious establishments as Raymond Blanc's "Le Manoir Aux Quat'Saison'' in the United Kingdom and the "Penang Mutiara Beach Resort" in Malaysia.
After years exploring a universe of new tastes and culinary traditions, the growing desire to return to Italy led Lavarra to accept the post of Executive Chef at Palazzo Avino's Rossellini's, a spectacularly panoramic eatery, which he soon transformed into one of the country's most highly quoted restaurants. Lavarra's cuisine is no simple presentation of the region's traditional cooking, but instead a modern alchemy of the chef's passion for the historic recipes of Campania mixed with his internationally inspired creativity.
Restaurant Rosselini's exciting menus feature dishes brimming with personality, such as the "frittata of spaghetti with fondue of lemon flavored pecorino and Neapolitan ragù"...a perfect balance of traditional Southern Italian flavors updated to a contemporary lightness. These same modern twists on traditional dishes can be found in Lavarra's "crunchy scorpion fish with Cetrara anchovy sauce and rich Neapolitan salad" and "Cod fillet in crust with Gaeta black olives, Sorrento beef tomatoes and anchovy sauce" - both part of a gastronomic journey exploring the products of the land and sea of the Amalfi Coast. Lavarra also mixes tradition and innovation in his meat-based dishes, including "Lamb filet wrapped in rose crust with white asparagus tips, mirror potatoes, and anchovy and sun dried tomato sauce"'.
For the perfect conclusion to any meal, "Rossellini's chocolate gran dessert" offers a number of delectable treats based on that most beloved of beans. Meals are accompanied by wines chosen from their cellar containing more than 800 labels.
Rossellini's Restaurant
Hotel Palazzo Avino
via San Giovanni del Toro, 28
Ravello (Salerno)
Tel. + 39 089 81 81 81
www.palazzoavino.com