Recipe from a White City
In the kitchen of one of Puglia's traditional restaurants.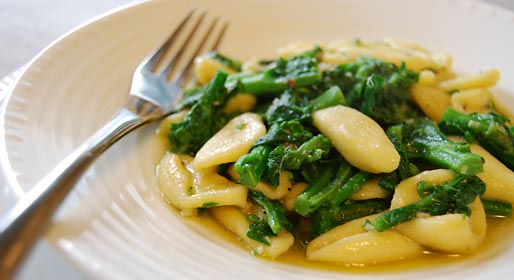 A labyrinth of pretty, white-washed houses blinking under the scorching Mediterranean sun: this is Ostuni, the White City of Puglia. Situated on the border of the Itria Valley, facing the Adriatic sea, this jewel of Salento has played an important role in the history of the region, having been dominated first by the Messapi, then the ancient Romans, the Longobards, Normans, Svevi and Aragons. Enclosed within fortified perimeter walls, the ancient nucleus of the city opens, dramatically, on to panoramic waterfront terraces and an intensely blue sea.
In the heart of the city, in an ancient,cave-like structure dug in the rocks and once used, in the 16th century as a bakers oven, is the Osteria del Tempo Perso: the ideal place to experience the authentic flavors of Salento. Osteria del Tempo Perso is both a restaurant and a museum in which the local farming traditions are recounted. The walls of the eatery's second dining room are hung with old agricultural tools and everyday objects, including numerous examples of capasoni: clay vessels traditionally employed as containers for wine, oil and water.
Dishes served in the restaurant are prepared according to the local culinary tradition, using the ingredients typical of this particular area of Puglia, such as broccoli rabe, cardoncelli mushrooms, and hyacinth bulbs. A number of years ago, encouraged by the many requests received from customers, the owners of the Osteria decided time had come to share the secrets of the region's cooking, and since then have been holding regular lessons during which pupils are taught how to create some of the Puglia's most-loved dishes.
Students learn how to prepare the dough for bread and characteristic puccia, which is then baked in the traditional wood burning oven. Great importance is given to the quantities of ingredients to be used to make the orecchiette (ear shaped pasta shells which in Ostuni are called stracciodde) and cavatelli (3inch long pasta shapes with a rolled edge), to be cooked with broccoli rabe and fava bean and clam sauce respectively. No cooking course is complete without lessons having been devoted to the preparation of the celebrated fava bean puree (to be served with chicory), and the Osteria's delicious ricotta tart.
Osteria del Tempo Perso
Via Tanzarella Vitale
Ostuni (BR)
Tel: +39 0831 304819
www.osteriadeltempoperso.com